and now for something completely different …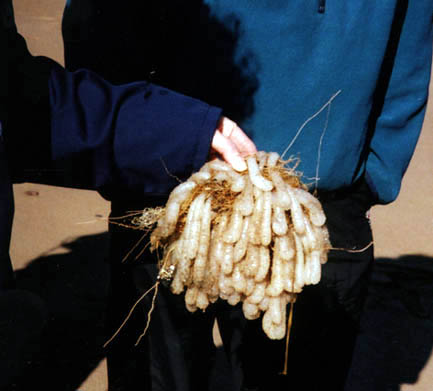 With the scourge of Foot and Mouth sweeping the country we decided to go for a walk along the golden sands that stretch for miles north of the mouth of the River Don. An hour after setting off however we came across the strangest object that I have ever seen in UK waters. Not wanting to walk away from this UFO, (f for floating), we took it with us in a carrier bag and the next day I took it into the Zoology Department of Aberdeen University. Yes, initially "it" did fox the brains of some of Scotland's top Zoologists until along came Dr Peter Boyle. He lost no time in identifying eggs strings of the Veined Squid Loligo forbesi. A quick surf using the generic name will tell you lots more - with several of the papers by Dr Boyle himself. Normally these eggs are laid on rocks, to find them on a tuft of fibres made a very unusual spectacle. Our readers may be interested to know they are now incubating in a tank in the Zoology department!
---
NEMT Front Page | Previous Page | Volume Index Page | Next Page | Journal Index Page
Please let the webmaster know if there are problems with viewing these pages or with the links they contain.