NEMT's Hilltracks Project Update
(A) NEMT HILL TRACKS SURVEY PILOT PROJECT CHAIRMAN'S REPORT
NEMT's pilot project finished at the end of 2008 and recently the hill tracks group produced a full Report which is available on NEMT's Website edition of this Newsletter. Meanwhile the Chairman's Summary is as follows: This report presents the data and observations collected after running the hill tracks pilot for an extra year, 2007-2008. Substantial extra data was collected, enabling a more robust set of recommendations to be drawn up. The pilot has shown that useful data can be collected by volunteers using the methodology outlined in the specification. NEMT is now committed to taking the project forward by extending the area of the project to the whole of the Cairngorms National Park.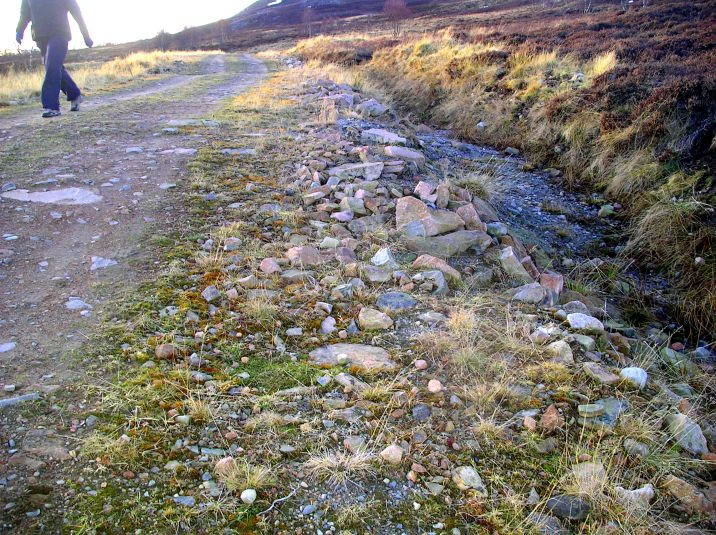 Collection of additional data remains a challenge howevet Detailed discussions with Adam Watson have revealed the difficulties of inexperienced volunteers trying to interpret photographs. Running several field outings with a group of committed volunteers would probably result in a group capable of generating reasonable quality data. This is an area, which needs further development during 2009.
It is proposed to re-launch the Hill Tracks Project during 2009 as follows:
Maintain and expand the existing level of effort within NEMT and its Member Clubs, by promotion via Mountain Views, General Council field day, etc.
Contact other NGOs eg Badenoch & Strathspey Conservation Group, to elicit the interest of their Membership in extending the coverage across the full Park.
STOP PRESS: We can confirm NEMT is holding a General Council Hill Track Surveying day on Sunday 3l May 09, on Deeside. Council Members and any interested participants are encouraged to register your interest and get further details on nemt.info@gmail.com
DIGITISING DR ADAM WATSON'S MAPS
As a supplement to the above NEMT is now adding an additional exciting chapter which it to digitise and publish Dr Adam Watson's historic records dating back over 50 years. These records are a unique catalogue of the evolution of hill tracks across the Cairngorms region. Adding this data set to the up to date photographic data will significantly enhance its value.
(B) CAMPAIGNING
(i) Balmore to Auchtavan - NEMT says it's time for ENFORCEMENT!
BACKGROUND: In Spring 2005 Invercauld estate did extensive engineering of a track from Balmore almost to Auchtavan in Glen Feardar, inside the Deeside National Scenic Area. Works involving: Track widening, culverts, ditches, and large scale earth works, without a planning application. The Council served an enforcement notice because this was a clear breach of planning regulations. The estates tenant appealed and a Scottish Office reporter carried out a hearing including a site visit. The hearing was held at the Glen Lui Hotel in Ballater on Tuesday 16 November 2007, where reports were submitted by NEMT, Aberdeenshire Council, SNH and the Cairngorms National Park Authority.
A decision was made on the 8th of May 2008 by Mr R F Loughridge, the reporter appointed by the Scottish Ministers where he was very explicit in his requirement for Invercauld estate to complete. A complete list of these requirements are available on NEMT's Website edition of this copy of this Newsletter and include the following for which readers can compare for themselves against the front cover photo on this edition of Mountain Views:
"Fill in the drainage ditch on the upsiope side of the track, reprofiling the result to a maximum of 30° commensurate with the surrounding terrain, removing existing turf and top soil beyond the current footprint of the ditch as required to facilitate such reprofiling, and replacing the turf and top soil on completion thereof pegging where necessary (the turves removed are to be carefully stored pending completion of the works vegetation side up) and removing all boulders and encountered in the works to the previously excavated hurroto pits."
The re-survey of this track on Invercauld's Estate was carried out well out with the time required by the Reporter and so once again, planning conditions, even retrospective planning conditions direct from Scottish Government, have gone completely unheeded.
PROGRESS OR LACK OF IT:
The reporter stipulated that it was important for the work to be carried out properly, and allowed six months for the construction restoration work to be completed, from the date of the notice, the 8th of May 2008. NEMT members have recently re-surveyed the track, taking photographs and found little or no evidence of any of the above works being carried out. This re-survey of this track on Invercauld's Estate was carried out well out with the time required by the Authorities and so once again, planning conditions, even retrospective planning conditions direct from the Scottish Government, have gone completely unheeded.
Aberdeenshire Council's enforcement officer at the time, attended the hearing in Ballater along with NEMT and like NEMT must be fully aware of the reporters findings. Mr R F Loughridge (2008), reporter appointed by Scottish Ministers stated "I accept that the works involved in the track and its associated drainage have clearly had a significant landscape impact... I conclude that the works have clearly impacted detrimentally on local landscape character and landform in a way which is without any sutbstantial justification, have given rise to manifest instances of soil erosion and constitute the significant ecological interference with the natural state of affairs for which there is no stated need."
Objectors have criticised Aberdeenshire council for inconsistencies and lack of action in the past. Whilst they are one of the few, if not only, Council in Scotland, to have a written a clear explicit policy on vehicle hill tracks, it would be good to see them implement it based on a proper understanding on what is happening and where.
Now that all other approaches have been played out in full NEMT calls for an enforcement notice to be served on the estate to mitigate the damage that we brought to the authorities attention over 4 years ago.
This whole situation has involved a large number of public bodies, agencies and services as high as the Scottish Government, all putting in a great deal of time and effort and the responsibility now clearly lies on enforcement. Clearly this state of affairs makes a complete mockery of the planning controls surrounding hill tracks. Now that all other approaches have been played out in full NEMT calls for an enforcement notice to be served on the estate to mitigate the damage that we brought to the authorities attention over 4 years ago.
(ii) Gleann An T-Slugan
In 2000, NEMT members expressed concerns to Aberdeenshire Council (AC) about a newly engineered hill track that was approx 3.51cm north of Braemar, west of Meall Glasail Mor and east of Meall An T-Slugan and approx 1.5km long.
NEMT enquired about the relevance of planning permission but AC were unable to advise at that time. We also wrote to Scottish Natural Heritage (SNH) expressing our concerns with a detailed map and photographs of the track. In 2002, SNH wrote to AC expressing their concerns and a letter of Feb 2003 was copied to NEMT. AC's Enforcement Officer Hamish Porter replied to SNH as follows;
"Invercauld should have prior to the work commencing submitted to the planning authority a prior notification of the development. No such notification was received. The estate appeared to be under the impression that no notification or planning permission was required for this development."
NEMT provided AC's Enforcement Officer with photos and a map of the area. On 5 June 03 a site visit was carried out by planning officials and the following conclusions were reached:
"There is considerable evidence that work has recently carried out to form an access for vehicles. It is considered by the planning service that the work carried out is sufficient to be classified as an engineering operation requiring express planning permission and could have been more sympathetically carried out. In respect of this track the estate was required to submit retrospectively an application for planning permission... In August 2003, an application was received from Invercauld estate for the hill track."
12 Dec 03: SNH were asked to assist AC with recommendations about the development proposal. Invercauld estate were then asked to submit a detailed schedule of works and spec for track modifications to an acceptable standard butt those submitted were inadequate to enable SNH to advise on the proposed works.
Dec 04: NEMT members met on-site for a visit with reps from AC, SNH, Upper Deeside Access Trust (UDAT) and Invercauld estate to establish a method statement for the works that is acceptable to SNH so this could be considered by development control as part of the planning considerations.
13 Dec 05: Invercauld estate planning application was to be determined by the Marr Area Committee, at Alford public hall on the. NEMT were represented and authorised to speak on behalf for NEMT The application was refused and Marr area Councillors heavy criticised the estate and set strict rules for track improvement.
27 July 06: Invercauld estate appealed to Scottish Ministers against the refusal by AC to grant retrospective planning permission.
25 Oct 06: Ms Karen Heywood, Scottish Office Reporter with reps from Invercauld Estate, Cairngorm National Park, AC and NEMT made a site inspection.
13 Nov 06: Reporters decision issued allowing the appeal and granting planning permission, with the following conditions:
Within two months of above date a schedule of proposed remedial works for the track to stabilise it and ensure it acquires a more sympathetic and natural appearance shall be submitted for the consideration and written approval of the planning authority. This schedule shall be based on the survey report undertaken by Boyd Henderson, Tract Consultant and dated the 2 Nov 05 and should also take into account points made by SNH in its letter to AC of 23 Nov 05 in relation to the following matters:
The submission of a map indication the location of the remedial works referenced two photographs.
The timing of the works.
The removal of turfs shall be carried out in accordance with SNH advisory note Heather re-establishment on mechanical disturbed areas.
Where slopes are to be re-guarded at an angle of 30 degrees or less should he created.
The submission of a maintenance schedule for silt traps shall be maintained in perpetuity as approved.
The submission of details of the cross-fall/chamber and compaction of surfacing materials for these locations where the track is to be re-surfaced.
Details of the person who is to supervise the remedial works on site, who must he in an appropriately qualified path worker.
In the Boyd Henderson report it was recommended that these works will initially take place over a three year period ending on the 13 Nov 09.
NEMT VISITED AND PHOTOGRAPHED THE SITE IN MARCH 09 AND SAW LITTLE OR NO EVIDENCE OF ANY OF THE ABOVE WORK BEING COMMENCED.
(iii) Water of Aven
In the last issue of Mountain Views, we featured a "Stop Press"piece on the damaging hill track works ongoing at the Water of Aven. Since then, Aberdeenshire Council requested that the work be stopped and it duly was. A meeting was then held with SEPA, SNH, Grampian Police Wildlife Officer and the Scottish Government Rural Payments and Inspections Directorate in attendance.
SEPA has taken the lead and are currently awaiting a method statement from the Estate for reinstatement/repair works with respect to the impact on the river and the landscape. A meeting was due to take place between SEPA and the Estate during March. We are waiting to see what develops.
(C) BEN GULABIN AND CARN MOR
A determined road builder doesn't give up easily and the shooting tenant on the Invercauld Estate has been back in action. This new development is to the south west of the Glen Shee ski centre. Not content with setbacks at Auchtavan and Slugain as outlined above, he has extended the existing track up Glean Taitneach to form a large loop over the top of Cam Mor, joining back up with the existing track to the north of Ben Gulabin. The new track is clearly designed to access the shooting butts in the area. There is also a new hut to the lee of the summit, presumably for serving refreshments to the weary guns. I suspect that these refreshments are unlikely to be simple tea and sandwiches, more likely champagne and caviare!
NEMT has contacted Perth & Kinross and their enforcement officer is currently investigating the matter.
The above work has a certain logic to it, even if it is probably illegal in having been carried out without planning permission. However, the desecration on the north side of Ben Gulabin defies any rational explanation. Here, the contractor appears to have had a half-hearted attempt to build a track straight up the hillside but then given up leaving a huge unsightly ditch, which, as it runs directly downhill, is now eroding excessively. This eroding ditch will not only be causing an unsightly scar but introducing excessive amounts of silt into the local watercourse. Mindless vandalism would appear to be an appropriate description. NEMT has contacted Perth & Kinross and their enforcement officer is currently investigating the matter.
(D) MILLDEN ESTATE
Finally, to round off this sad list of wild land being sacrificed simply to improve access for shooting parties, we come to the Millden Estate.
In common with the other estates in the Angus glens, the Millden Estate has constructed miles of new tracks. Can people no longer walk to the butts? The official excuse is that they're needed for tending the sheep. However, as the estate closes down the local farms, this excuse gets difficult to swallow. This might be changing because as theories on tick control come and go, a current growing fashion is to keep sheep as modern day Tick Hoovers. Will the harassed farmers get a reprieve to breed sheep to act as tick removers? This of course will then create a distraction for the Authorities who will be minded to accept hill-track planning applications as they can be claimed to look after the sheep that are being bred to remove the ticks and so increase the "huntsmen's kill" from their butts?
More on the Millden Estate in the next issue of Mountain Views.
David Windle and Kenny Freeman, NEMT Hilltracks Group
---
NEMT Front Page | Previous Page | Volume Index Page | Next Page | Journal Index Page
Please let the webmaster know if there are problems with viewing these pages or with the links they contain.