Deeside & other floods: the winter of 2015/16
Ken Thomson
Flooding is no new phenomenon on Upper Deeside, or elsewhere in Scotland, as illustrated by the Muckle Spate of 1829, which swept away many bridges and ruined much farmland for miles around Braemar and elsewhere. Floods were also recorded in 1928, 1935 and 1957, when the footbridge over the upper Lui to the Lairig Ghru - only recently installed - was washed away. And in August 2014, Hurricane Bertha caused damage estimated at £800,000 (see Mountain Views Issue 71, Spring/Summer 2015), including the footbridge at Derry Lodge.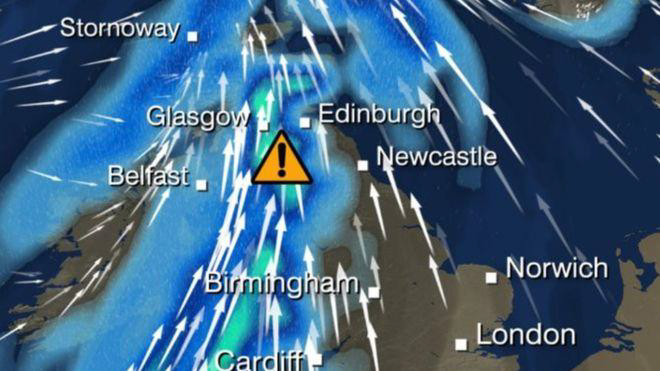 But Storm Frank in December/January just past has caused new devastation - though not, perhaps surprisingly, to the temporary Derry Lodge footbridge erected in 2015 thanks to ScotWays, or to Bob Scott's bothy, or to even higher footbridges and bothies.
Damage reported in late January included the following items (listed by estate) in the upland Cairngorms, along with several lower-level reports, e.g. in Ballater where major settlement flooding occurred:
Storm Frank © BBC/Met Office
| | |
| --- | --- |
| Atholl | main track up Glen Tilt severely damaged between Car Park and Gilbert's bridge |
| Ballater | Cambus o'May and Polhollick Bridges damaged and closed |
| Cairngorm | paths damaged but not closed |
| Glen Doll | Bachnagairn bridge on Moulzie track washed away, diversion in place |
| Glen Feshie | bridge over Allt Fhearnasdail (NN827983) washed away |
| Glenlivet | footbridge (NJ189300) over the Livet approx. 0.5km upstream of Drumin Castle completely washed away |
| Glen Tanar | Strone circuit closed as track in the Water of Allachy washed out |
| Glenmore | Allt Mhor closed due to landslips, other paths washed out. Utsi's bridge below Sugarbowl car park to be assessed |
| Invercauld | landslide blockage at the Black Hillock NO235014 en route to Corndavon; Baddoch bridge washed out at NO129822; River Gairn bridge at NO172988 badly damaged and closed; Bridge at Dunmay in Glen Shee at NO135667 not passable |
| Balmoral | bridges at west end of Loch Muick washed away, now repaired |
| Mar Lodge | Allanaquoich road bridge seriously damaged and Quoich now flowing to the east; Punchbowl (Tea Room) footbridge closed after serious damage (from 2014?) revealed; upper footbridge at NO101921 washed away (so no access to east side of the Quoich from car park); further significant loss to west Quoich track; further (and almost final?) damage to the remains of the Canadian bridge across the Dee beyond Inverey |
At time of writing (March 2016), a few of the above may have been repaired, but others will need to await better weather conditions, and will require serious amounts of time and money to put right. Mar Lodge Estate alone now faces damage costs put at about £1.2 million, and has issued a special appeal for donations.
The Cairngorm Club has offered £25,000 towards the cost of replacing the Quoich footbridge at the Punchbowl; it is hoped that this can go ahead quickly. The cost of replacing the upper Quoich footbridge is believed to be covered by insurance.
Further information may be available from time to time from Neil Reid's useful blogsite, cairngormwanderer.wordpress.com