ENFORCEMENT IN THE PARK: A MORE RIGOROUS APPROACH ON THE WAY?
Representatives of the LINK Hill Track's group, including an NEMT Trustee, met with senior planning officials of the Cairngorms National Park in February. This was a constructive meeting. It is clear that the Park is 'singing from the same hymn sheet' as LINK in respect of many of the issues regarding hill tracks. Enforcement was one of the themes discussed. It is easy to criticise the Park for failure to act more forcefully and more quickly in a number of instances but the constraints the Park Authority is under need to be appreciated. Planning authorities cannot act 'punitively' against developers who act without consent or fail to meet conditions. The Park Authority also tries to give irresponsible developers every chance to make good their failings; this is what the law demands and what the public, probably, considers to be reasonable. In addition, with severe pressures on resources, keeping an eye on work as it is being undertaken is a challenge. However, having said that, there is evidence that the precious Cairngorm landscape is suffering because the Park Authority has been too accommodating when developers cock a snook at the law. Examples of this are the sorry saga of developments at Badaguish and the lack of restoration on the Glen Bruar hydro track. The following are issues in which NEMT has taken a particular interest and which demonstrate why the Park Authority must act robustly and timeously.

The ski area on Cairngorm
Readers of the Parkswatch website will be aware of concerns that Natural Retreats, the company managing the area, has undertaken work without consent and the quality of other work has been poor. In particular, the construction of a track without consent was highlighted in the last edition of Mountain Views. The Park Authority eventually asked Natural Retreats to submit a retrospective planning application and this was considered at the January Planning Committee meeting. NEMT objected to this new track, considering it unnecessary, and asked to speak at the meeting. NEMT made the case that there were other ways of accessing the adjacent tow for occasional maintenance (ski tows do not need tracks for this) and retention of the track was for convenience and to save the cost of removal.
However, appreciating that the Committee was highly likely to approve the track, NEMT put forward a compromise solution, namely that the track should be planted over with heather. This would have allowed a hard base for occasional vehicle use (all that Natural Retreats said it required it for), would have reduced the track's visual intrusiveness and would have prevented erosion. It was disappointing that the Committee and Officers did not support this suggestion: the track was approved without this condition. The Planning Committee is, however, to be applauded for giving Natural Retreats a roasting for failing to act as responsible guardians of the area. The company's representatives left with their tails between their legs and it is hoped that this experience has taught them a lesson.
The Park Authority, Highland and Islands Enterprise and Highland Council all have responsibilities in respect of the ski area. If closer scrutiny of what was going on had been taken at the time, then the illegal work could have been stopped as soon as it started and the other work could have been carried out to an adequate standard. NEMT, Badenoch and Strathspey Conservation Group and the Cairngorms Campaign have written to the Convener of the National Park expressing concerns regarding ground works in the ski area.

Tracks on the Dinnet estate
The Park Authority has been trying to resolve the issue of controversial tracks on the Dinnet estate for over four years and still the required work has not been completed. Ramblers Scotland has obtained all the communications regarding this under a Freedom of Information request. This material demonstrates that the Park has gone to extraordinary lengths to accommodate what can only be described as dilatory and recalcitrant behaviour on behalf of the applicant. NEMT thinks that the Park Authority should have taken more robust enforcement procedures a long time ago when it became clear that a mockery was being made of a supportive approach.

Beauly-Denny tracks
To its credit, the Park Authority opposed the Beauly-Denny powerline and, and unlike some other planning authorities, has taken a firm approach to subsequent applications by landowners to retaining associated sections of new track, including rejecting the retention of a section on the Ben Alder estate. Unfortunately the restoration work undertaken on this part of track has not been adequate with the situation being made more difficult because the construction of the track was undertaken in a slapdash way initially. This demonstrates the need to keep an eye on work as it is being undertaken. Across the country there is evidence of companies contracted to construct tracks flouting best practice. NEMT contacted both the Park and Scottish and Southern Electricity and it is good to report that a five year monitoring scheme involving the Park, SSE and the contractor (Balfour Beattie) is now in place.
These examples demonstrate the following:
The Park Authority is not picking up quickly enough when work is being carried out illegally (i.e. without consent) or being undertaken to a poor standard. Members of the public can help with this by alerting the Park to any developments which they are unsure about.
While needing to give recalcitrant developers some leeway to address identified concerns, the Park must act more quickly when it is clear that required action is not being undertaken timeously. The law allows for various levels of enforcement and, beyond using these to 'encourage' developers to 'get a move on', the Park Authority tends not to use the powers it has which would really impact on developers¡¦ plans or pockets.
Where a developer has acted without consent and this contravenes any of the Park¡¦s plans, the Park Authority should be much more willing to require complete removal of the development and reinstatement of the ground. This would send a clear message that the Park will uphold its primary duty of protecting the environment.
There are signs that the Park Authority is beginning to act more robustly. It has been addressing issues regarding a track on Carn an Leth-choin west of Newtonmore: NEMT applauds this.
To end on a further positive note: NEMT is pleased to see that the Park, in its response to the current consultation on changes to Scottish planning procedures and law, is calling for new tracks on open ground that are not in enclosed farmland to require full planning permission, irrespective of the purpose of the track.

The Hill Tracks Campaign: how successful?
Hill tracks have been a priority for NEMT and others, including the organisations which are members of the Scottish Environment LINK¡¦s hill tracks group, for many years: has all the effort been worth it?

In the credit column:
Without NEMT and the other concerned organisations the change in the law requiring developers to submit to planning authorities in advance details for proposed tracks for forestry or agriculture (Prior Notification) would not have taken place. Before this, developers could construct tracks willy-nilly if they could claim that they were for agricultural or forestry purposes ('permitted development'). Many 'agricultural' tracks were, historically, primarily for shooting purposes and should have been subject to full planning applications; many were also poorly constructed.
Prior Notification brings the opportunity for third parties to make comment which NEMT and others have been doing in a number of cases. It does seem clear that planning authorities are, as often as not, taking best practice into account when approving Prior Notifications or requiring Prior Approval which lays conditions on the developer.
Scrutiny by planning authorities ensures that developers consider the best line for a track and meet certain standards for construction.
In the debit column:
Planning authorities do not have to take account of third party comments as they would have to with full planning consent; however most seem to be doing so.
If a developer can argue that a track is permitted development, a planning authority cannot reject it as it could with a full application. A track cannot be refused, therefore, on the basis that it spoils the look of a remote glen in a wild land area.
Problems remain regarding defining the purpose of a track (is it for agriculture, and therefore permitted development, or is it primarily for sporting purposes with secondary agricultural use?).

So what is the answer to the original question? It is fair to say that the Campaign has born some fruit but there is a need to keep going.

Where to now for the LINK Hill Tracks Campaign?
The Campaign is to continue for at least another year. Over the past couple of years, 'trackers' all over Scotland have been monitoring planning applications and a core group, which includes an NEMT member, then agrees whether comment should be made in individual cases. It has been decided to create a part time post to undertake some of this leg work and so free up the main players to concentrate on a more strategic approach. Finance for this has been obtained from trust funds and from LINK itself with NEMT and others making contributions. The Campaign intends to continue to press for all tracks to require full consent. A report on the findings of the monitoring will be produced and widely disseminated in 2018.
The campaign has focussed to date on Prior Notifications but has also considered tracks for which full consent has been applied for. There is growing concern regarding the tracks associated with the construction of small scale hydro. These, of course, require full planning consent as part of the application for the scheme but there is mounting evidence that some are being built in a cavalier manner and are not being restored properly. Indeed, it is felt that some may not be necessary in the first place or could be removed after construction of the project is complete. It is a big task to monitor what is happening with small scale hydro but the Campaign is widening its remit to consider examples of good and bad practice.
Finally there is a growing feeling in the Campaign that the current 'track by track' approach, particularly in the most environmentally sensitive areas, only takes us so far and that there is a need to press further for stronger legislation to protect our finest landscapes.
We usually include photos of poorly constructed tracks so, to balance things, the photo below is an example of what NEMT would like to see. This track stands proud, with drainage at both sides which will prevent erosion. The rucksack demonstrates the scale- no wider than needed for a 4x4. The vegetated verges and the central vegetation strip reduce the track's visual impact.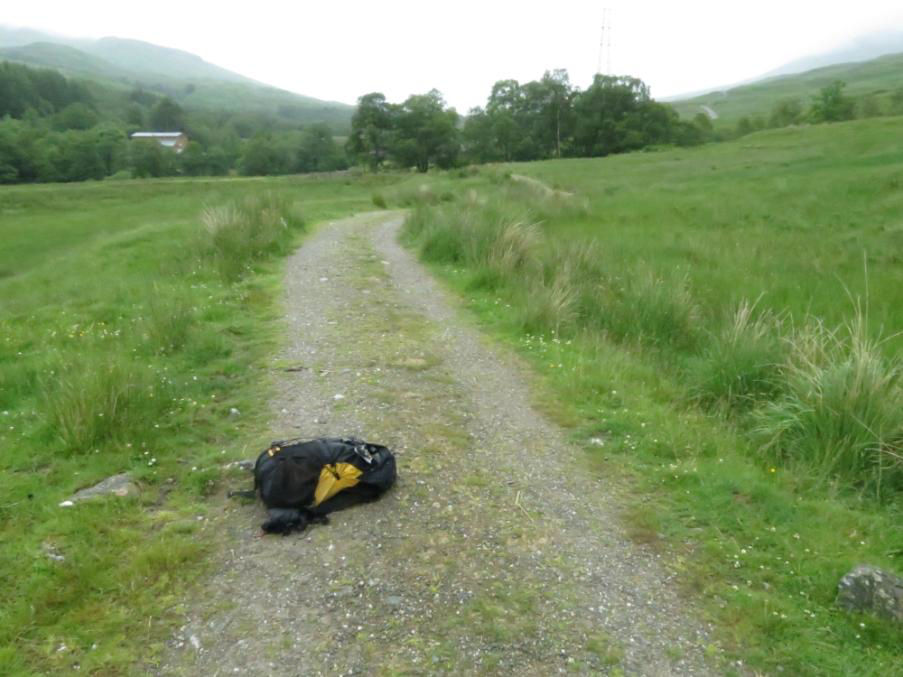 A well-constructed track © Nick Kempe
---
NEMT Front Page | Previous Page | Volume Index Page | Next Page | Journal Index Page
Please let the webmaster know if there are problems with viewing these pages or with the links they contain.