Upland Path Use Survey
George Allan
Scottish Natural Heritage recently published a report of users' views of paths in the hills (Survey of Upland Path Users in Scotland 2017). There were around 2400 responses to the survey, reflecting a wide range of often conflicting opinions on the three themes addressed which are:
people's experiences of upland paths;
people's perceptions of the importance of upland paths;
people's views on maintenance.
While space precludes a detailed analysis of the findings, the following may be of interest:
Considerably more people think that the condition of upland paths has improved in recent years than consider that it has declined.
Compared to other areas, paths in the Cairngorms National Park area are deemed to be 'good' by the greatest number of people; however the Carn Liath path on Beinn a'Ghlo (now being repaired) is singled out for particular criticism.
There is very strong support for continued investment but this is balanced by concerns that paths can reduce the 'wild feel' which people seek.
The survey gives little consideration to the possibility of constructing new paths in upland areas.
Unsurprisingly, opinions are divided as to the desirability of increased signposting/waymarking. Overall, the report tries to present the findings without bias; however, by highlighting the finding that 34% of respondents support increased signposting/waymarking without emphasising that 48% are opposed to this, the report's authors seem to be straying towards a preference, unacceptable in a report of this nature.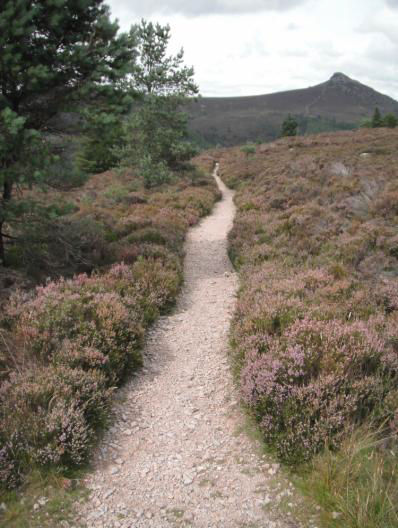 A well-made path on Millstone
Hill © George Allan

In broad terms, NEMT's position is that:
there should be no new paths created in open upland areas;
well used existing paths should be maintained, as far as possible using the 'light touch' principle;
while some signposting/waymarking may be justified in woodland areas, there are a number of strong arguments against this in open upland areas.
The report is available online

---
NEMT Front Page | Previous Page | Volume Index Page | Next Page | Journal Index Page
Please let the webmaster know if there are problems with viewing these pages or with the links they contain.