CAIRNGORMS UPLAND ADVISORY GROUP
Dave Windle
The group has discussed a number of areas, as listed below:
The results of a recent CNPA intern project, using remote sensing to map hill tracks in the park. This piece of work will form an excellent reference source for coming years.
A project to map the distribution of curlew and other waders across the park to help in designing conservation actions.
Both the Werrity grouse moor management report and deer working group report were noted and the group asked to feed in opinions for board discussions on the two documents. Following the publication of the Government¡¦s response to both reports, they will be discussed again within the group.
Landscape scale conservation, of which the highlight was the ongoing work by the River Dee Trust to improve the condition of the Dee in upland areas, with riparian planting to give shade and reduce the water temperatures in the summer, and simulating large woody debris to provide cool pools.
In the previous issue of Mountain Views, reference was made to work ongoing to develop a best practice guide for ATV use in the Cairngorms National Park. The following work-in-progress has been discussed in the full group but remains in progress. The following will help to give an idea of the sort of areas that it will cover.
Example of ATV tracks, Glen Derry ©Joe Dorward, 2017, CC BY-SA2.0
---
Best practice guide for ATV use in the Cairngorms National Park
What's this guide for?
The aim of this guide is to help you to make good use of all-terrain-vehicles (ATVs) on the open hill in the Cairngorms National Park. It does not cover use of ATVs in forests or on farms.
In this guide "ATV use" includes any powered vehicle used off-road, off-constructed tracks and on the open hill, including for example: quad bikes, Argocats and Landrovers.
Why do I need this guide?
ATVs are extremely useful for upland management, often in remote, hard to reach areas. They can also have serious long-term impacts on the ground leading to unnecessary, expensive repairs and avoidable damage to habitats and landscapes.
This guide is to help you to do all you reasonably can to look after your hill by:
Avoiding the damage in the first place
Allowing vegetation and soils to recover
Knowing what to do when damage is unavoidable
Before setting out
When planning your routes you should avoid vulnerable areas and sensitive sites as much as possible, these include:
Wet, soft ground such as peat moss
Higher altitude thin delicate vegetation
Steep slopes vulnerable to wash-out
Some designated habitats e.g. Sites of Special Scientific Interest
Many people using ATVs need to access the same areas repeatedly, maybe several times a year, several times a month or even daily. It is easy to get into the habit of repeatedly going over the same route. It may be time to review what you're doing, look over the whole area and carefully re-consider all your options. For example:
Can you make more use of existing hill tracks (including your neighbours) to minimise the need for going off-road?
Can you delay accessing vulnerable areas during or just after heavy rainfall?
Is there anything you can do to reduce the load carried by your ATV?
Are you using the best vehicle for the terrain? e.g. avoid skid steer vehicles on vulnerable areas or trialling dual wheels.
Top tips
The following points are a checklist of ways to minimise unnecessary damage:
Only use ATVs where and when strictly necessary
Note that the best routes may not be the shortest
Always aim for tougher vegetation surfaces such as dry heath
Avoid fragile, wet soft ground, steeper slopes and thin delicate vegetation
Change or stop using your route before vegetation starts showing signs of damage
Avoid bottlenecks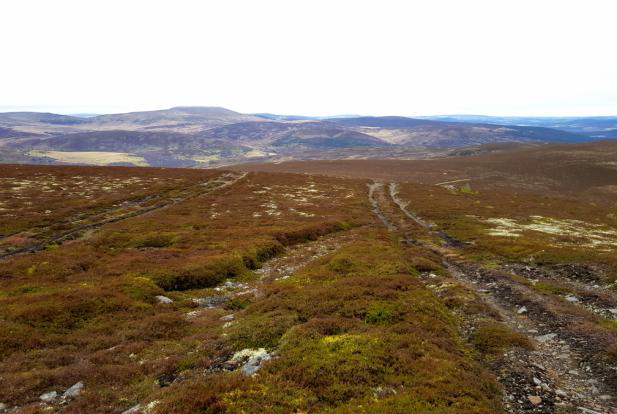 Unnecessary track duplication, Geallaig ©Jean Robinson
And finally
Ensure anyone using ATVs on your land is properly trained
Use the right vehicle for the job and the terrain
Maintain your vehicle so that it runs smoothly and with the right tyre pressures
Lighten your load as much as possible
If damage is unavoidable
Sometimes there may be no viable alternative to using an ATV and the location makes it very difficult to avoid damage. In these cases small-scale measures such as temporary matting or small bridges can help reduce further impacts. If you think you need to input materials please check first with the CNPA planning team for advice on whether or not you require planning permission. Email: planning@cairngorms.co.uk or phone 01479873535.

ATV safety
This is not a "safety guide". It is a legal requirement for employers to provide adequate training for employees who use ATVs. For further information on training for safe use of ATVs please visit: www.lantra.co.uk.
---
NEMT Front Page | Previous Page | Volume Index Page | Next Page | Journal Index Page
Please let the webmaster know if there are problems with viewing these pages or with the links they contain.