GROUSE MOORS
Ken Thomson
The long-awaited report to the Scottish Government (SG) on the management of grouse moors was published in December 2019.
Its remit was "to examine the environmental impact of grouse moor management practices such as muirburn, the use of medicated grit and mountain hare culls and advise on the option of licensing grouse shooting businesses. ..."It did not consider moor drainage or tracks, or disturbance by walkers. It found parts of the scientific and socio-economic evidence hotly contested or missing, but summarised as follows:
Even with "diversionary feeding", Hen Harriers, and perhaps Peregrines in some areas, can reduce the densities of grouse to such low levels that driven grouse shooting is impracticable.
Muirburn affects biodiversity, soil stability and hydrology, both positively (e.g. in dry heathlands) and negatively (e.g. in wet heaths and peatlands). The effectiveness of the Muirburn Code cannot be properly assessed, but climate change makes it urgent to do so.
It is not possible to test the effect of killing hares for sport shooting on the conservation status of Mountain Hares, and there is no substantive evidence to support the population control of Mountain Hares as part of tick and/or louping ill virus control to benefit Red Grouse.
There is some evidence that prescription levels of medicated grit are too high, that gritting holidays are not always observed, and that grit may not always be withdrawn from grouse at least 28 days before Red Grouse enter the food chain. There is little evidence of a resistance problem with the use of medicated grit, but there is some evidence that flubendazole is toxic to aquatic organisms.
The review group studied several approaches, e.g. regulation, codes of practice, improved effectiveness of existing law, and financial incentives. It examined the pros and cons of licensing in some detail, including:
Pro: Licensing need not be onerous, allows a graduated scale of penalties, can be flexible, e.g. as to eligibility criteria, reporting requirements, and infringement penalties. It also constitutes a transparent system of control.
Against: current arrangements could be prosecuted (or strengthened) more effectively in general or in particular. Licensing would be unfair as between all operators, and in relation to e.g. agriculture and forestry (both subsidised). It might also endanger a valuable economic sector, and be challenged under human rights legislation.
In the end, the review group recommended unanimously that "a licensing scheme be introduced for the shooting of grouse if, within five years ... there is no marked improvement in the ecological sustainability of grouse moor management, as evidenced by the populations of breeding Golden Eagles, Hen Harriers and Peregrines on or within the vicinity of grouse moors being in favourable condition". It also proposed licensing for muirburn, increased legal regulation for the management of mountain hares, and a voluntary code of practice for the use of medicated grit, with licensing for the latter two activities if implementing those proposals proves ineffective. Licensing would fill a major evidence gap via a SNH register of grouse shooting activity.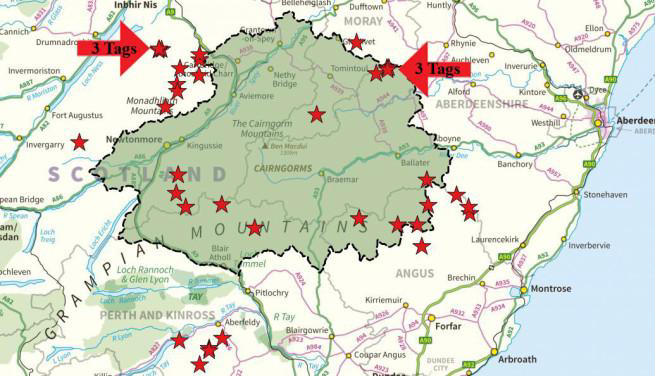 Last known location of satellite-tagged golden eagles
©Raptor Persecution UK
The report's recommendations are of course being argued vigorously, but ministers (e.g. the Environment Secretary, Roseanna Cunningham) have indicated that the recommended five-year delay may be reduced: Link and link
Nick Kempe has produced a critique of the report on his Parkswatch website
He points out that the report is a whitewash. It is well known that one of the main reasons for the delayed publication is that Werrity was forced to make concessions to the shooting representatives on the team to obtain a unanimous report.
The CNPA is criticised for failing to make use of its existing powers to regulate grouse moor managers.
The most important criticism is reserved for SNH. They will be required to advise ministers whether the proposed licensing system is needed in five years¡¦ time. Their track record to date in enforcing the EU Habitats Directive is appalling. They have been content to report healthy populations of golden eagles, knowing full well that black holes exist over moors intensively managed for driven grouse shooting. A check on the Raptor Persecution Society website shows the extent of the problem.
Two years ago the Environment Secretary was forced to give them a public dressing down over their mismanagement of deer numbers. They have been no better on grouse moors. They have only recently changed a "favourable" conservation status for mountain hares, despite knowing of Adam Watson's data showing severe declines. Can we trust them to stand up to the landowners? Probably not?
The good news is that Roseanna Cunningham, as quoted above, "is minded to act on the report before five years is up". Somebody, at least, is alert to the contradiction that our" guardians of the countryside" seem to be unable to stop killing anything that moves on a moor other than grouse. Predictably, groups representing shooting interests have come out with the party line of "zero tolerance" on the illegal killing of birds of prey. Link
We have heard many calls for zero tolerance in the past. Instead of calling for zero tolerance, maybe they should get their factors to speak with the people responsible? In industry, if somebody ignores the rules of the company, they get dismissed. It doesn't seem to work like that on estates managed for grouse shooting, unless those that make the rules don't actually want to see them obeyed.
To increase public awareness of the problem, the RSPB has started an on line heat map together with other information on wild bird crime.
The subject was featured on the BBC national news at 18.00 on the 17th February — gamekeepers were not portrayed favourably! Public awareness is undoubtedly increasing.
In the last issue, we noted that Alison Johnstone MSP had put forward a Bill to end the killing of mountain hares without a licence. This was part of a package to end hunting with dogs and provide improved protection to both brown and mountain hares and also red foxes. The consultation, now closed, was posted on the Parliamentary website.
NEMT responded to the consultation making the following points:-
Hunting with dogs is barbaric and has no place in a modern society. It is traditional but, at one time, so was bear baiting.
The traditional pursuit of chasing on horseback after dogs can still take place via drag hunting. Trail hunting, using a lure scented with fox urine, should be banned as the dogs can be diverted into chasing a live fox (which may have been the intention all along).
Current evidence supports the view that, in areas, control of both mountain and brown hares is excessive leading to unnecessary suffering and major population declines. Those responsible have no knowledge of the impact of their actions on the wider population. Voluntary restraint as offered by the SLE is clearly a joke. Increased control is needed.
We support increased protection for foxes but note that they are a pest species and agree that some form of control is necessary without incurring excessive bureaucracy.
Recommendations made by Lord Bonomy, a senior Scottish judge, to tighten some of the legal definitions surrounding fox hunting were supported by the Government but nonetheless have not been implemented. This Bill would rectify this. NEMT supports that they should be implemented.
In several aspects of fox hunting, Scotland is out of step with England and Wales, having a laxer regime. This is clearly unacceptable.
Stiffer penalties are required as the existing penalties are clearly insufficient, given the steady stream of gamekeepers flouting the law and getting derisory fines for wildlife persecution offences.
NEMT believes that this Bill can be enacted without incurring significant future expense and without affecting gamekeepers' employment.
We now hope that the proposed Bill progresses to the next stage of becoming a draft Member's Bill.
---
NEMT Front Page | Previous Page | Volume Index Page | Next Page | Journal Index Page
Please let the webmaster know if there are problems with viewing these pages or with the links they contain.