CLACHNABEN PATH REPAIR
Donald Thomas
Clachnaben on Glen Dye Estate provides a walk popular with families. The iconic torr provides a good viewpoint as well as having some climbing routes. The footpath from the end of the estate landrover track was improved by a trust over 20 years ago. That work was of a high standard and much of the path has remained in good condition. The Cairngorm Club was alerted to the hazard of exposed metal pins.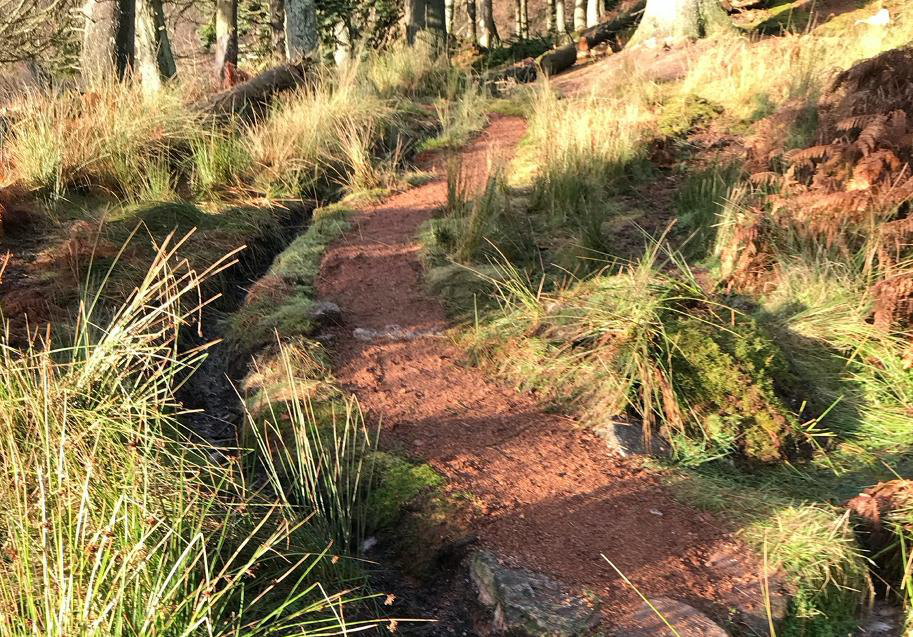 ©Donald Thomas
A survey by Outdoor Access Trust for Scotland (OATS) identified that erosion had exposed pins used to stabilise the lower edge of the path in the wood. Other sections of the path were in need of priority attention. The club successfully applied to the Community Fund of the National Lottery and appointed a well-established contractor, ACT Heritage to carry out the work.
A 4-man team spent 3 separate weeks on the path over the 2019/20 winter, completing the priority work. The Cairngorm Club, Ramblers Scotland and the North East Mountain Trust supplemented the funding. I was on the path with the OATS surveyor during the work and since completion. We are pleased with the standard of work and happy that this has made a significant difference.
Several sections of the path remain wet or eroded, two with exposed geotextile material. Plans for a volunteer workparty to clear drains and ditches have been put on hold during the Covid-19 restrictions. Further contract work will be required in the next few years to keep this path in good condition.

---
NEMT Front Page | Previous Page | Volume Index Page | Next Page | Journal Index Page
Please let the webmaster know if there are problems with viewing these pages or with the links they contain.