NEMT TODAY
Dave Windle, current Chair
Dave Windle
Today, NEMT is an organisation representing about 1,000 hillwalkers and climbers via 12 local clubs and slightly over 100 individual members. There are two principal categories of membership: those who are members via a member club, and individual members. We are a registered charity and governed by a Board of Trustees, all of whom are voluntary. Member clubs are encouraged to nominate a trustee to ensure that we campaign on the issues that matter to people. We plan to go back to holding membersí evenings on a regular basis once the virus problems allow.
NEMT is affiliated with 8 other organisations such as Ramblers Scotland, the Bailies of Bennachie and the Mountain Bothies Association. We also work closely with groups such as Save Bennachie, Save Clachnaben, the Badenoch and Strathspey Conservation group and the Cairngorms Campaign on issues of common interest. Recently, these have included campaigning against the proposed An Camas Mor new town across the river from Aviemore, and trying to get the ski operator at Cairngorm, to work to better standards. Weíre not members of Mountaineering Scotland as, if we were, many club members would be paying twice, but we work with MS on areas of common ground.
An important grouping is via Scottish Environment LINK, (www.scotlink.org/) which currently represents about 40 of Scotlandís environmental charities, and tries to influence Government policy on environmental issues. Our ongoing work on hill tracks and on the management of driven grouse moors benefits from speaking with a single voice across the whole of Scotland.
We started by campaigning against inappropriate developments in the mountains and along our coastline. The nature of the developments has changed; skiing developments are now less popular but the proliferation of hill tracks for both hydro schemes and shooting access are just as damaging. Instead of one or two massive developments, we now have multiple smaller developments. We also campaign against the abuses of modern shooting estates - driven grouse shooting with its consequent raptor persecution, the slaughter of mountain hares and also deer stalking where deer numbers are completely out of control. We continue to focus on the North East, particularly the Cairngorms.
The role of NEMT is more important than ever. Individual clubs have a smaller voice than NEMT working with a wide range of NGOs speaking in unison. This can be seen in our dealings with the Cairngorms National Park Authority, where we meet with the CEO and his directors as part of Scottish Environment Link. We provide a conduit for groups such as Outdoor Access Trust for Scotland to reach our members and clubs to get people involved with volunteer work, such as surveying and maintaining mountain paths. We have plans for further member involvement later in the year.
Our current campaigning priorities are:
Inappropriate wind farm developments, such as the proposed Glen Dye wind farm, which will destroy views of and from Clachnaben.
Abuses in modern driven grouse moor management.
Influencing the Cairngorms National Park Authority to give appropriate weight to environmental concerns.
Working as part of the LINK Hill Tracks Group, advocating better control of new tracks and to improve construction methods on the ground.
Correct management of deer numbers, to allow trees to regenerate.
Working with other NGOs to get improved protection for wild land as mapped by SNH in 2014.
Responding to Government consultations on topics affecting the general mountain environment, such as proposed changes to the planning laws.
In support of this campaigning work, we communicate with our clubs and members via our winter lecture series and this publication, Mountain Views, our bi-annual newsletter.
Our biggest success to date was in getting the proposed skiing development in Lurcherís Gully and the proposed super-quarry at the Longhaven cliffs stopped. Nowadays, success comes in smaller parcels. Some years ago, we appeared at two separate planning inquiries to get the Invercauld Estate to carry out mitigating works needed on poorly constructed tracks. Together with other NGOs, we have managed to get the planning controls on new hill tracks tightened and are starting to get the Government to improve grouse moor management.
Work on Glen Slugain track, Invercauld estate
Our work to give better protection to mountain hares is a good example. We started following a dramatic decline in their numbers on modern grouse moors, where they are eradicated as they carry ticks, which can kill grouse chicks. Work has involved collecting evidence, complaining to the European Commission (very effective in rousing our own officials), and working with other NGOs to bring pressure on the Government to act. There are highs and lows, of course: writing to MSPs only to get standardised, anodyne responses can be soul-destroying, but the successes do compensate, such as the recent parliamentary vote to increase protection for mountain hares.
How can people contribute to the work of NEMT? The first thing to do is to get out into the hills and enjoy them. You get back energised and ready to do things to help conserve them. We need more volunteers to help with campaigning. MSPs will respond to constituent pressure. If enough of us write to and visit our MSPs about an issue, they take notice.
Vehicle damage on moorland
© Jean Robinson

MSPs are important as, besides passing legislation, they can activate tardy civil servants in both local and national departments. Taking photographs and recording changes can provide evidence, which is important in getting organisations such as SNH to act.

The following websites are good sources of information;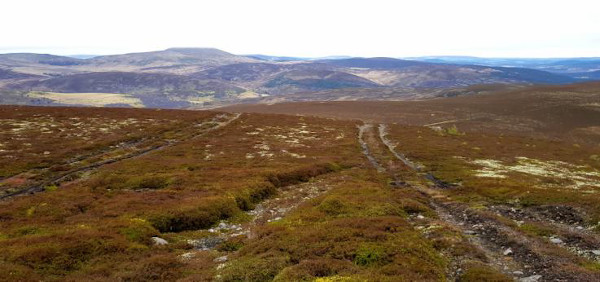 Unnecessary track duplication
© Jean Robinson
This article is based on substantial pieces of an article written by Jean Robinson, which appeared in Issue 112 of the Cairngorm Club Journal.
---
NEMT Front Page | Previous Page | Volume Index Page | Next Page | Journal Index Page
Please let the webmaster know if there are problems with viewing these pages or with the links they contain.