Cairngorm Upland Advisory Group
Dave Windle
The last meeting discussed deer management and the forthcoming arrival of beavers into the Park, but these subjects are covered elsewhere.
One item of interest was a discussion on the use of middens or stink pits. If you come across one, these are a pretty ghastly sight but are legal for the disposal of the remains of wild animals. To be fair to the estates, they are usually well away from paths and common access routes. I have only come across them when "off-piste". They are typically open for a substantial period. There have been complaints that they are used for disposal of other waste, such as agricultural plastic and livestock. This should not be there and if you come across this, please take a photo, let us know and we will write to the estate.
The two names actually refer to two different uses; a stink pit is for disposal of deer waste and a midden is designed to attract foxes and other predators which are then trapped. Interestingly, "stink pits don't make good middens as the waste is typically not fresh enough to attract foxes". You learn something new!
At the meeting, two "conservation" estates declared that they use stink pits for disposal of deer remains, suggesting that the alternative of frequent lorry trips to an incinerator was undesirable from the point of view of CO2 emissions. I'm not sure about the validity of the CO2 argument but can see that offsite incineration will be expensive. I don't want to put any extra obstacles in the way of improved deer management.
However, the use of middens for predator control is less clear and is to be added to a future CUAG agenda. We would welcome your views which could then be fed back into the discussion, please send to nemt.info@gmail.com.
Nick Kempe has posted some unpleasant photos and expressed his views on his Parkwatch blog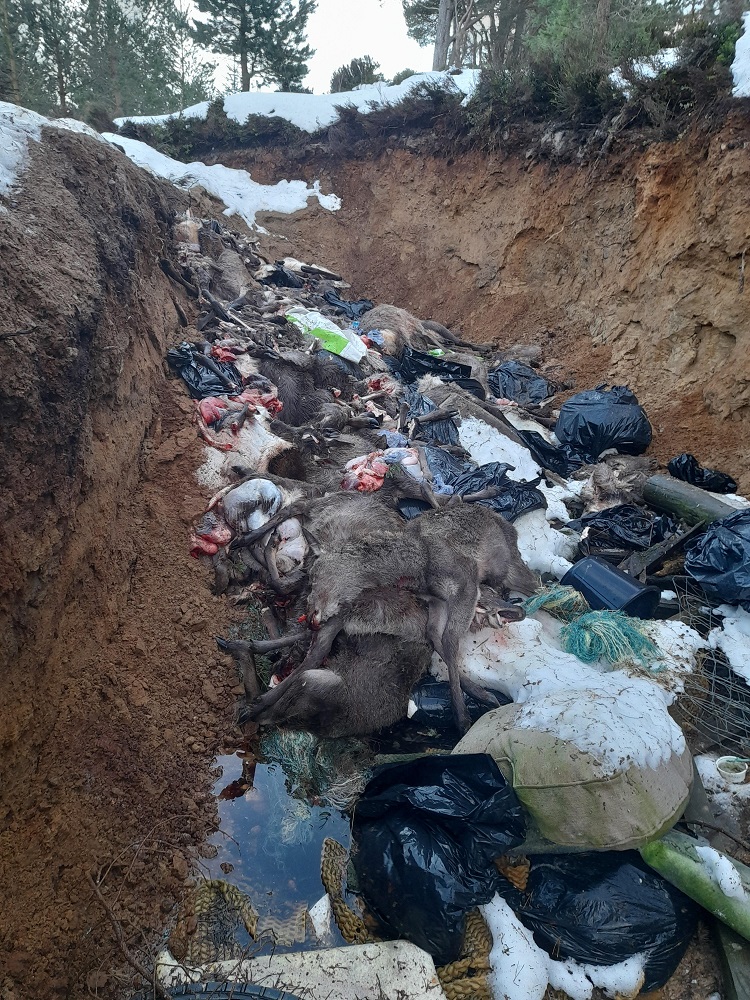 Burial Pit near the heart of the Cairngorms ©Nick Kempe
---
NEMT Front Page | Previous Page | Volume Index Page | Next Page | Journal Index Page
Please let the webmaster know if there are problems with viewing these pages or with the links they contain.