Modern Path Repair
Donald Thomas
Hillwalkers will frequently come across "stalkers paths" that ease their way up and down their chosen hills. Many of these tracks date from a time when highland estates had considerable numbers of staff throughout the year. In the quieter times, it is my understanding that they were available to build paths, bridges, and walls, many of which we still see today. They worked with local knowledge of the terrain in all seasons. The survival of their paths, often with little maintenance is a tribute to the skill of the path builders. With changing land management practices and increasing mechanisation on estates over the years, some of those skills were lost.
Increasing popularity of hillwalking in the twentieth century produced erosion issues. This was particularly evident at honeypot sites, including the English Lake District and North York Moors. Munro Bagging and Long Distance paths have focussed visitors onto a limited number of popular routes. The first Long Distance routes in Scotland were the West Highland Way (1980), the Speyside Way (1981) and the Southern Upland Way (1984). Calls came to improve (or at least restore) conditions underfoot. Landowners see little if any return on investment in footpaths. Public bodies have been encouraged to contribute, recognising the benefits to both health and the wider economy of the area.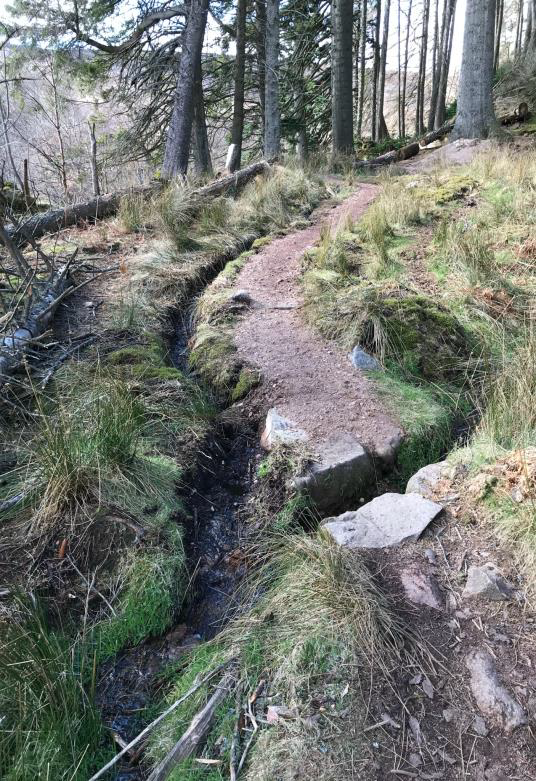 Aggregate path with side ditch and cross drain
©Donald Thomas

Initial progress was made by local initiatives. Early local groups, including the Ross and Cromarty Footpath Trust (later The Footpath Trust), Conserve, and Pathcraft (Scottish Conservation Projects/ British Trust for Conservation Volunteers, now The Conservation Volunteers) did much pioneering work around the Highlands. As the new industry emerged there was a need for training and surveying as well as contract construction work.
Soon a more coordinated approach was called for. In the 1990s, the Scottish Rights of Way Society (now Scotways) and Scottish Natural Heritage (now NatureScot), among others, set about cataloguing major routes and creating mechanisms for local delivery of improved access. The National Access Forum and the Paths for All Partnership both emerged in 1996. New Access legislation and Disability legislation followed and gradually led to implementation of a core path network, Local Access Forums, and shared use paths.
Locally, the Upper Deeside Access Trust repaired and promoted low level paths in each of the Deeside towns as well as upland paths on nearby hills. Following the creation of the Cairngorms National Park, they widened their area of interest to take in the whole Park. More recently they became the Outdoor Access Trust for Scotland and turned their attention further afield. Through a recently completed project, The Mountains and the People, they have provided further training opportunities, volunteer coordination for light path construction/maintenance, and surveying and contract management services. They completed a car park at the Fairy Pools in Glen Brittle on Skye which had become a problem following promotion as a tourist attraction. Local work continued on the Glas Allt path on Lochnagar, with a new bridge.
Funding remains a problem for this labour-intensive industry. Some funding can be found for capital projects but is scarce for on-going maintenance. Car parking charges provide a small but worthwhile contribution towards the upkeep of paths. Groups have had success with applications for National Lottery funding. Some landowners, including the National Trust for Scotland and the John Muir Trust arrange footpath management themselves, using a combination of volunteer and contract labour.
While footfall by boots does contribute to erosion, water and animal grazing also contribute to the damage. Whatever the cause, the current workforce has had to relearn or develop the necessary skills.
The first step in any footpath repair is to assess the nature and extent of the problem, either from local knowledge or by formal survey. Decisions over the preferred route are required. The survey also provides an opportunity to identify locally available materials (building stone and surfacing gravel). Transportation costs become significant if there is no local source, particularly if helicopter lifts are necessary.
Many paths are constructed (or repaired) by managing the expected water flows. Once any covering vegetation has been breached (by grazing or boots) water, in its passage downhill, will wash away the underlying soil. As an area becomes muddy, walkers will try to walk around and the problem spreads.
The fundamental components of path construction are drainage, foundation, and surfacing. Side ditches are dug to keep water off the path, leading it to constructed cross drains or culverts. Stone lined cross drains and water bars carry water away from the line of the path. Often, a path tray is dug to a solid base on which course aggregate is laid as a foundation with a finer aggregate surface. Although initially visually intrusive, aggregate paths using local material can blend into the upland landscape. Synthetic geotextiles may be floated on deep peat when it is impractical to excavate to a firm base. With increasing slope of the path, anchor bars are required to reduce migration of the surfacing down the path. Steeper lines either require re-routing ("zig-zag") or stone pitching. Additional work may be required to reduce the width or braiding of an existing path.
After construction, some surfacing aggregate is likely to be washed into drains, reducing their effectiveness. While keeping drains clear and vegetation off the path, volunteers can monitor the effectiveness of the design and may suggest if further work is required. Let's hope that modern upland footpaths wear as well as their predecessors. We await a decision if the momentum created by the Mountain and the People will continue now that the 5-year project is complete.
Technical Guides to Footpath Construction (and Maintenance)
Footpaths: A Practical Handbook, British Trust for Conservation Volunteers, 1983/1996
(now https://www.conservationhandbooks.com/footpaths/)
Hands on Scotland: A DIY Conservation Manual, Scottish Conservation Projects Trust, 1996
Upland Pathwork: Construction Standards for Scotland, Path Industry Skills Group/SNH, 1999
(2015 update: https://www.nature.scot/upland-pathwork-construction-standards-scotland)
Constructed Tracks in the Scottish Uplands, Scottish Natural Heritage, 2006
(2013 update: https://www.nature.scot/constructed-tracks-scottish-uplands)
---
NEMT Front Page | Previous Page | Volume Index Page | Next Page | Journal Index Page
Please let the webmaster know if there are problems with viewing these pages or with the links they contain.