News Snippets
Rob Mackay
Letter calling on Royal Estates to Re-wild
Calls have been made in an open letter to the Royal Family to re-wild the considerable Royal Estates (Balmoral Estate itself is 50,000 acres large). The letter has been signed by more than 100 academics, experts and public figures calling on the royal family to rewild their lands as a public commitment to help tackle Britain's biodiversity crisis and to show climate leadership.
Organised by the rewilding campaign group Wild Card, the letter's 120 signatories include the broadcasters Chris Packham, Hugh Fearnley-Whittingstall and Anita Rani as well as the leading environmental scientist Prof Sir Robert Watson. It points out the longstanding public commitment to climate and environment by Prince Charles and suggests that: "You have a unique and historic opportunity to radically address the degraded state of nature on these islands"
It urges them to prioritise biodiversity in their land management and allow for the restoration of ecosystems such as forests, grasslands, heathlands, swamps and rivers – both as vital wildlife habitats and important carbon sinks. The national context for this intervention is whilst there has been some success protecting individual species, the overall trajectory for UK biodiversity is not positive. Since 1970, populations of the country's most important wildlife have declined by an average of 60% and around one quarter of native mammals are at risk of extinction.
The letter wants the focus by the Royal Estates initially to be on re-wilding degraded lands and to show climate leadership.
Rewilding - first steps in Glen Geldie ©Joe Dorwood CC BY-SA 2.0

Approval of Red John Hydro scheme
The creation of a pumped storage hydro scheme on the shores of Loch Ness has been given the green light by the Scottish Government following a positive recommendation by the Scottish Reporter. The Red John scheme is one of the single biggest investments in the Highlands in recent years, valued at more than £550 million. Highland Council had objected to the plan following a Public Inquiry on the grounds of the visual impact the scheme would have on the shores of Loch Ness.
Mr Michael Matheson, Cabinet Secretary for Net Zero, Energy and Transport stated:
"The Scottish Government has long been supportive of pumped hydro storage for its role in ensuring resilience in our electricity supplies, and for the tremendous opportunity it provides to unlock the potential of renewable energy and to support Scotland's net zero ambitions. This project alone will save over 45 million tonnes of CO2 over its lifetime."
Judicial review into a proposed building of spaceport in Sutherland
Wildland, owned by Danish billionaires Anders and Anna Povlsen have mounted a legal challenge to the building of a spaceport on the A' Mhoine peninsula near Tongue. Highland Council granted planning approval for the site in August 2020. The couple own land which adjoins the proposed Space Hub Sutherland. They have objected to a bird survey conducted by the HIE being extended to over their lands. Lawyers for Mr Povlsen believed the August 2020 decision failed to take into account the risks to the local environment and wildlife populations.
However, Lord Doherty at the Court of Session on August 20th 2021 rejected this submission and found in favour of Highland Council's decision to approve the Spaceport scheme.
Cairngorms National Park given £12.5 million from Heritage Horizon Awards fund
The Cairngorms 2030: people and nature thriving together project has been awarded a possible total of £12,486,100 over the next seven years. The project will involve a wide range of partners, from NHS Highland to Deer Management Groups and local communities, working together to tackle the climate emergency and nature crisis, as well as delivering an economy that works for all. Covering over 4,500 km², the Cairngorms is the largest national park in the UK and is home to 25% of itsl threatened and rare species, such as capercaillie, wildcats, osprey and golden eagles.
The Cairngorms National Park Authority are leading the project, which brings together over 45 partners to achieve inclusive, transformational change for people and nature in the National Park. The project will tackle the climate emergency, protect and enhance biodiversity, and deliver meaningful improvements to people's health and wellbeing.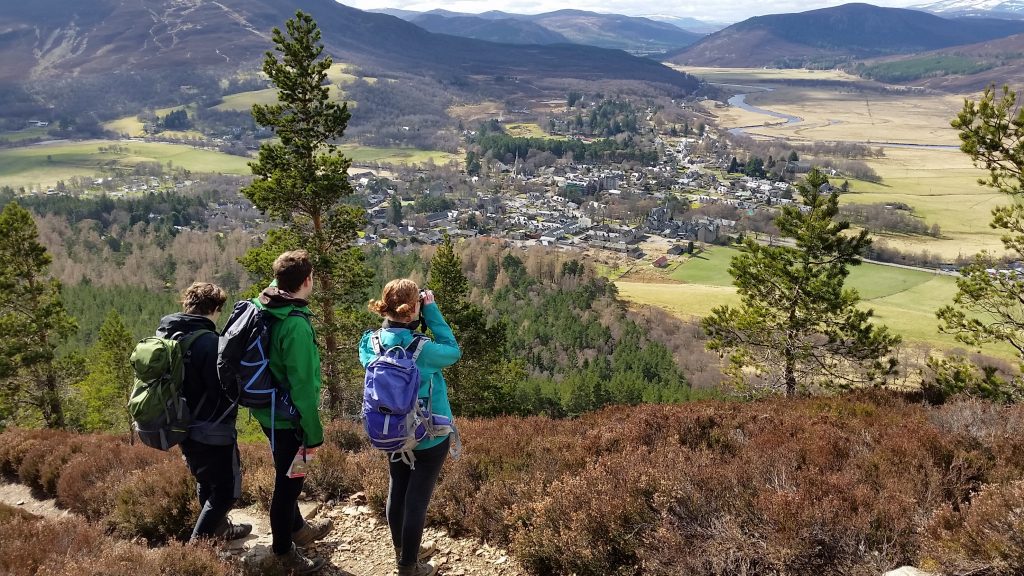 View of Braemar ©Cairngorms National Park Authority
The project will place the future in the hands of the people and communities who live and work there, as well as those who visit. It will include outdoor health programmes and the creation of a nature-based dementia centre, and will enhance nature through green finance, woodland expansion, peatland restoration, river catchment management, nature friendly farming and sustainable transport. 12 jobs will also be created in the area, with the possibility of further recruitment in later phases of the project.
Xander McDade, Convener of the Cairngorms National Park Authority, said: "On behalf of over 45 partners, community groups, land managers and voluntary organisations involved in our bid, we're thrilled that the Cairngorms National Park has received nearly £12.5m as part of the Heritage Horizon Awards.
"We believe that it is only by communities coming together that we can tackle the climate emergency and nature crisis. This funding allows us to take forward critical work in communities and landscapes right across the National Park, from the creation of a nature-based dementia centre to citizens' assemblies fostering local decision-making; from woodland expansion and peatland restoration to nature friendly farming, sustainable transport, green finance, and creating a well-being economy.
"Our plans are ambitious but the situation facing our country and our planet demands that we do things differently. With the help of National Lottery players, together with our many funding partners, we can now look forward to turning this transformational vision into reality."
Anger at Dalwhinnie Railway Crossing Closure
On the 28th July 2021, Network Rail padlocked shut the level crossing at Dalwhinnie, with no consultation and minimal notice to the landowner or local community. This is a popular and well-used route across the railway to a number of Munros and bothies in wild and remote country.
Mountaineering Scotland, along with other outdoor recreational groups and local community interests, including Ramblers Scotland, ScotWays, British Horse Society Scotland and Cycling UK Scotland, is calling for Network Rail to reopen the crossing and talk with the local community and recreational groups to resolve any matters that are causing them concern.
Mountaineering Scotland received official notification of this action more than a week after the gates were padlocked and weldmesh fixed to the gates to prevent anyone climbing over. Network Rail claimed this sudden and unilateral action to restrict public access over the railway was done on public safety grounds.
For anyone wanting to get to the mountains of the Ben Alder range there is an underpass approximately 500m south of the level crossing.
However, parking near the underpass is much more limited than at the level crossing, where Dalwhinnie Community Council, Ben Alder and Phoines estates recently upgraded the walkers' car park at their own expense, increasing capacity for up to 20 cars. There is also no direct route between the level crossing parking and the underpass. Getting between the underpass and the larger parking area involves going back through the village, doubling the length of this diversion.
It is understood that Network Rail has authorised vehicular use of this railway crossing for Ben Alder estate and the emergency services. The question that Network Rail needs to answer is why it is deemed safe for private use but not for public use when access rights apply on both sides of the railway.
Stuart Younie, CEO of Mountaineering Scotland, said: "To close an important and popular access point without any prior consultation or any supporting evidence of their safety concerns is a very high-handed approach by Network Rail. Use of the crossing along this route is well established and we find it unacceptable for a public service company like Network Rail to sever this popular and historic route, which predates the coming of the railway, without engaging with those who use it regularly."
Mountaineering Scotland and other outdoor recreational groups are supporting a petition by Ramblers Scotland calling for Network Rail to reopen the crossing and engage with the local community, The Highland Council and outdoor interest groups. Mountaineering Scotland, and indeed NEMT, is encouraging its members to show support and sign the petition.
---
NEMT Front Page | Previous Page | Volume Index Page | Next Page | Journal Index Page
Please let the webmaster know if there are problems with viewing these pages or with the links they contain.