HILL TRACKS: WHERE HAVE WE GOT TO?
George Allan
With no sign yet of the long awaited Scottish Government's review of Permitted Development Rights and hill tracks and a thankfully quiet summer for applications, this is a good time to reflect on whether anything has been achieved since Adam Watson pushed the issue up the agenda fifty years ago. The last decade has seen a flurry of activity with two major reports from Scottish Environment Link, a change in the law requiring tracks for farm and forestry work to come under the Prior Notification system and a lengthy period of systematic monitoring of track applications across Scotland co-ordinated by LINK. NEMT continues to monitor applications each week for the Grampian area. However, never mind the work- what about the outcomes?
Let's start with the bad news…
While the current system does allow planning authorities to reject Prior Notifications and, indeed, full planning applications, this hardly ever happens. Tracks for various purposes continue to intrude into the upland landscape.
Existing tracks are rarely removed. To the great credit of NTS and Anders Povlsen tracks have been removed at Mar Lodge and Feshie (plus adjacent estates). We would love to hear of examples involving other deer forests and grouse moors but we aren't holding our breath.
Tracks are still constructed from time to time without consent. When found out, estates are required to submit retrospective applications; however, bar one example that we know of, these are always given consent, usually with a few conditions requiring the work to be tidied up.
Beyond routine maintenance, upgrading of existing tracks also requires submission of a Prior Notification but this is not always lodged. There are also times when planning authorities accept track 'upgrades' in cases where NEMT considers that what is proposed is essentially a new track (i.e. constructed on top of a few tramlines created by ATVs).
Even when legally undertaken and subject to conditions regarding quality, track work can be of a poor standard with exposed edges and poor drainage leading to rapid erosion. Planning authorities simply do not have the staff to inspect what is on the ground.
New dimensions to an old problem have emerged. Hydro schemes require tracks for construction and for longer term maintenance of the intakes. Consent usually requires these to be reduced to 4x4 width but often this restoration work is poorly executed. Indeed, there is no reason why ATV width tracks for maintenance wouldn't suffice in many instances but planning authorities don't tend to see it that way.
Wind farms require extensive networks of tracks but these are within areas which are permanently 'urbanised'.
A growing issue is tramlines, braiding and peat damage by ATVs, with modern models being capable of traversing very rough ground. Eventually a constructed track may be a better option than allowing such damage to go on increasing. Use of ATVs on open ground by the landowner is not, of course, subject to any legal restrictions.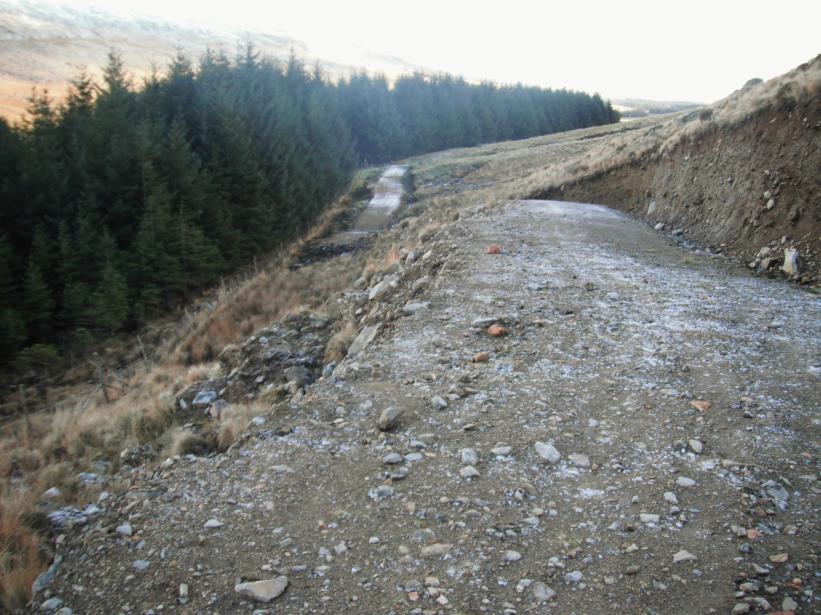 Clova horror! © George Allan
Is this all a cause for despair?
Well, not completely:
Prior Notification has reduced the construction of tracks for sporting purposes under the guise of 'agriculture'. Construction now needs to be justified.
There have been cases where estates have withdrawn applications following issues raised by planning authorities.
The system has, to some degree, improved the quality of construction.
The Cairngorms National Park Authority has taken a lead in implementing a policy of a presumption against new tracks in open moorland (barring exceptions in restricted circumstances).
Under pressure from NEMT, it is becoming more common for planning authorities to require new and upgraded tracks to have a central heather/grass strip; this significantly reduces the visual impact when seen from a distance.
The Cairngorms National Park Authority has produced guidance on the use of ATVs. How effective this has been in reducing the impact is not yet clear but it is certainly a step forwards.
Where do we go from here?
There are opportunities for change and for fresh initiatives.
The review of Permitted Development brings another opportunity for the law to be changed to require tracks to have full planning consent. There are a number of benefits to this over the Prior Notification system. The blurring between agricultural and sporting use would be removed. Planning authorities would be unrestricted by 'permitted development' and so more likely to refuse consent on grounds such as detriment to the landscape. Their hands would also be strengthened in respect of taking enforcement action. The uncertainties as to how far the public can comment on Prior Notifications would be removed and the system would be simplified for all parties.
The licensing of grouse moors may well bring opportunities to impose restrictions on track work.
Persuading other planning authorities to follow the Cairngorms National Park Authority's lead in developing strategic approaches to tracks and to providing guidance on ATV use would be major steps forward.
An increased focus on the ATV problem could lead to innovative solutions.
Finally, a Scotland-wide plan to remove little used tracks or to reduce them to path width might seem like wishful thinking but, with incentives to land owners, could just be feasible at some point.
---
NEMT Front Page | Previous Page | Volume Index Page | Next Page | Journal Index Page
Please let the webmaster know if there are problems with viewing these pages or with the links they contain.