... but what happened to Something Completely Different???
Our spring issue covered the find of Veined Squid eggs, Loligo forbesi in the inter-tidal zone near the mouth of the River Don.  We advised that Professor Peter Boyle of Aberdeen University's Zoology Department not only identified the eggs for us also put them into their aquarium.  We have now to report (questions have been asked!) that sadly no little Logilo's did ever hatch out due, no doubt, to the extremely distressful time we submitted them to.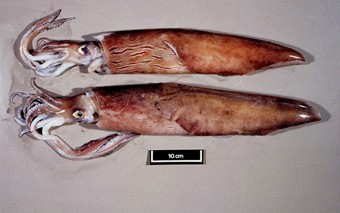 We do have a picture of a hatchling for you though, taken by Dr Stephen Craig of Aberdeen University.   We can also advise that this species ranges (swims!) from the Faroes in the north to the European coasts, at least as far south as the offshore Saharan Bank, with an isolated population in the Azores.
Jennifer A Cook
---
NEMT Front Page | Previous Page | Volume Index Page | Next Page | Journal Index Page
Please let the webmaster know if there are problems with viewing these pages or with the links they contain.