AN INTRODUCTION TO ABERDEEN HILLWALKING CLUB
F Kelly, President
The beginnings of the club go back to the 1930s when hillwalking began to be popular. The club originated among a group of Post Office employees and became known as the Post Office Hiking Club. Following the war it then reappeared as the Telephone and Post Office Hiking Club in 1946. Although pre-war the club appears to have attracted mainly postal staff, the majority of support now came from telephone staff, mainly telephone operators and engineers.
Over the intervening years the mix of club members has changed considerably with fewer Post Office and British Telecom staff involved. As a result the club name was changed to the present Aberdeen Hillwalking Club.
As with most club organisations, membership has declined over the years but we still have around 60 active members who participate in our regular fortnightly outings. Meets take place every second Sunday from March to November and once a month the rest of the year. We are fortunate still to travel to outings by bus despite varying numbers usually 20 to 30 on individual outings.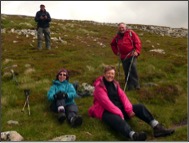 Members enjoying the delights
of Jocks Road

Our new club website, developed during the past year, currently advertises the walks programme and includes photos and reports of previous walks together with past years' newsletters highlighting all activities of the club. During the year, the club also organises a variety of evening meets, when members come together for specific activities e.g. stovies evening with a quiz, video/film show, bar supper and an annual festive meal after our January outing. We have also organised occasional map, compass and GPS training sessions followed by practical work on hill outings. Our favourite areas for outings are the Cairngorms, Angus glens and Deeside with coastal walks and visits to Fife, Lomond and Ochil hills.

Until a few years ago, we regularly organised an annual weeks walking trip usually towards the end of May using youth hostels as accommodation. This allowed us to travel further afield and these longer breaks saw us visit many areas in the west of Scotland, England and Wales. Some members have also organised trips to the Alps, Italian Dolomites and Pyrenees as well as long distance routes such as the West Highland Way, Hadrian's Wall, Pennine Way and Offa's Dyke.

Our regular walks cater for all ages and grades of walkers, from those enjoying challenging routes to shorter or easier alternatives and there are a number of experienced walkers within our membership to advise and guide newcomers. New members are always welcome and can be assured of an interesting day out. As our trips are always by bus, this is a good way for people to get to know one another.

Over the years, Aberdeen Hillwalking Club has boasted a number of larger than life characters but the common theme amongst all members is a great enthusiasm for the outdoors and a determination to enjoy the friendship of likeminded folk.

Club contacts are detailed on the website and as always we look forward to welcoming any newcomers to outings.
---
NEMT Front Page | Previous Page | Volume Index Page | Next Page | Journal Index Page
Please let the webmaster know if there are problems with viewing these pages or with the links they contain.