EASTERN HIGHLANDS BOTHIES UPDATE
Alex Scott
The main activity in the MBA bothies has been the refurbishment of Gelder Shiel at Balmoral and the rebuilding of the collapsed gable of Faindouran in Glen Avon.
The work at Gelder took place over two weekends in the middle of May with the main effort undertaken by the Ballater Chiels who put in a prodigious effort over the weekend of Friday 8 to Sunday 10 May. This work involved the installation of a timber floor and red pine lined walls and ceiling including sheep's wool insulation. A wood burning stove and two roof lights were also installed, transforming this rather damp and cold stone stable to a warm welcoming bothy. The following weekend the local MBA workparty did little more than tidy the place up though, importantly, coated the new woodwork with fire retardant.
The bothy was renovated in memory of Ernie Rattray, a member of the Chiels and also of the local mountain rescue team. A noteworthy contribution from the local community at Ballater involving catering for the work party and the assistance from Balmoral Estate in the supply and transport of materials was invaluable.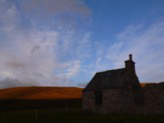 The second main area of work involved five weekends of effort from MBA work parties at Faindouran. The eastern gable and chimney stack of this small bothy had collapsed in February 2013 and had been temporarily repaired in timber cladding. The work this summer involved consolidation of the remaining lower courses of the old granite walls, reinforcement by a network of wire mesh, timber beams and concrete covered by a new timber wall in particle board and exterior larch cladding.
A new stove was also installed but owing to time constraints the repairs to the slate roof and the new flue for the stove will require to be completed following the shooting season, probably in late September. Other work included the provision of a wooden floor in the adjacent stable block; this will allow the use of the old stable as an overflow from the limited floor space in the main bothy. The weather over the five weekends was mixed with sleet showers and heavy rain in June to gale force winds in August, at least midges were not a great problem.
Minor repairs were made to the roof at Tarf hotel in July and a work party is scheduled in early September for improvements to Callater Stables. The autumn meeting of the Eastern Highlands group of the MBA is to be at Charr bothy on Saturday 10 October to discuss next year's work programme.
---
NEMT Front Page | Previous Page | Volume Index Page | Next Page | Journal Index Page
Please let the webmaster know if there are problems with viewing these pages or with the links they contain.