Save Clachnaben
Marijke Ross
A new access route having been sourced after the original route was refused permission by the landowner, the date for submission of the planning application now looks to be set for the beginning of October. The planning application will then have to be advertised in the press. After the second advert members of the public will have between 4 to 6 weeks to object. A copy of the environmental impact assessment can then also be viewed in Banchory library. We have also been told that a digital copy will be available for online viewing at the Scottish Government Energy Consents site. On their website you can look for the application at the Scottish Government Energy Consents website.
So October will be the time to sharpen your pens and pencils and write to your local councillors, your community council, to your MSP , to Aberdeenshire council and to the Scottish energy consents dep., stating material considerations (spoiling the view is not a valid reason). The Save Clachnaben page has some suggestions on its 'how to object' page, and we will also post any updates there.
On a similar topic, there is an application afoot to double the size of the current Midhill windfarm by Kerloch, Durris, with proposed turbines up to 200 m high (that's 10 Scolty towers piled on top of each other), the largest land turbines proposed in the UK. Only this time the operators are calling the windfarm 'Fetteresso', but as you may be able to see from the map below, it is one and the same site as Midhill. This proposed windfarm is at the scoping stage. As it is planned for over 50MW, there will be no local enquiry.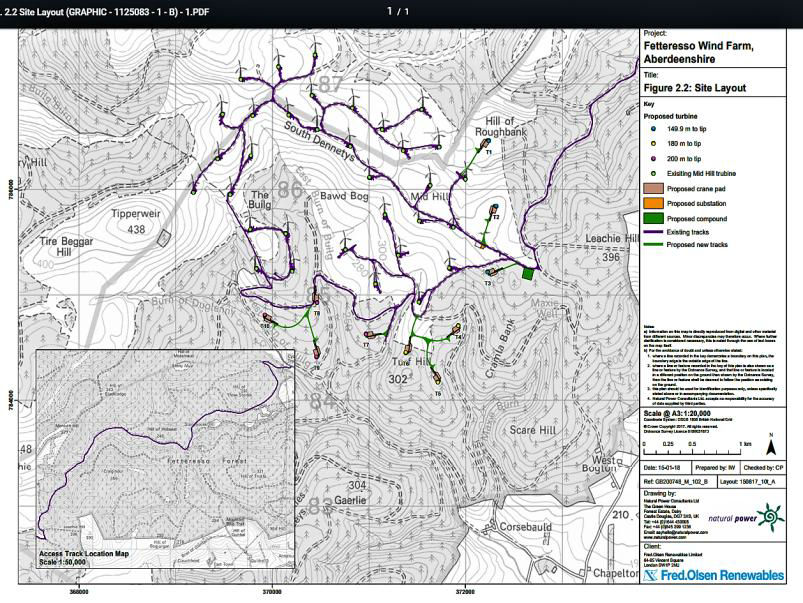 Proposed wind turbines, Mid Hill © Fred Olsen Renewables
---
NEMT Front Page | Previous Page | Volume Index Page | Next Page | Journal Index Page
Please let the webmaster know if there are problems with viewing these pages or with the links they contain.