HILLTRACKS – THE CAMPAIGN CONTINUES
George Allan
Having failed to get his amendments accepted at Stage 2 of the Planning Bill, Andy Wightman MSP, with background support from LINK, tried again at Stage 3 in June. If successful, this would have required the tracks which are of greatest concern to NEMT to require full planning consent: the amendments were again rejected by the Scottish Parliament. The voting went on party lines with the combined forces of the Conservatives and the SNP voting against, with most MSPs from other parties in support.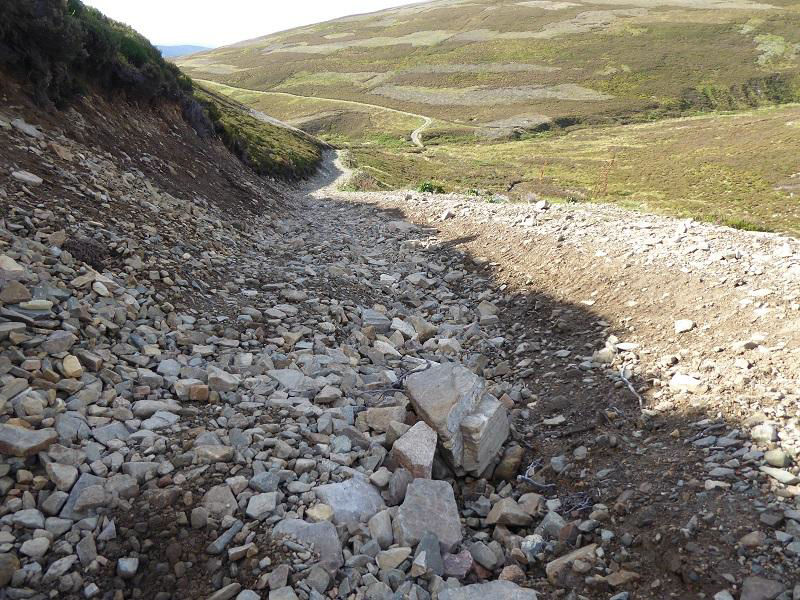 Dinnet estate track ©Nick Kempe, reproduced by kind permission of Ramblers Scotland
While the Conservatives are highly unlikely to support any additional controls on landed interests, the SNP's position is curious. We can only surmise that the party believes, completely mistakenly in NEMT's view, that requiring proper legal and democratic scrutiny of applications for tracks would somehow impede 'economic development'. It is unacceptable that full planning consent is needed to erect a conservatory at the back of a private residence but such legal control is not needed to construct a track for miles up an unspoilt glen. The Minister did, however, state that the issue could again be considered in the forthcoming review of Permitted Development Rights which is likely to occur next year. Time will tell whether this is an indication by the Government of a genuine willingness to revisit the issue or a 'fobbing off'.
LINK, with full support from NEMT, is planning how to approach the issue of the review. There may be a misconception in some quarters that the campaign is aimed at trying to prevent any tracks being built. This is not true and the campaign intends to clarify this: some tracks are essential, although in many cases land management could be achieved without such visual intrusions.
There was considerable positive publicity around the issue in June and there was widespread public support for change. We would again like to thank NEMT members who wrote to their MSPs before Stage 3 – much appreciated: be warned, we may need to call on you again!
Efforts to reduce the damage caused by the indiscriminate use of all terrain vehicles in the Cairngorms are described in the article 'Cairngorms Uplands Advisory Group' elsewhere in this 'Mountain Views'. It will help NEMT to press the case for controls on ATV use if we can publicise examples of the resulting destruction. The photographs in that article, taken at Mar Lodge, illustrate the mess that can be created. We would welcome photographs of similar eyesores on other estates. Please send us your photographs of damage caused by ATV tracks, particularly those in the Cairngorms National Park (although those from elsewhere are also of interest). Photos should be sent to nemt.info@gmail.com along with the location and map reference.
---
NEMT Front Page | Previous Page | Volume Index Page | Next Page | Journal Index Page
Please let the webmaster know if there are problems with viewing these pages or with the links they contain.