WIND FARM DEVELOPMENTS
Brian Heaton
There have been no windfarm planning applications which it was felt the Trust should object to since the last issue of the bulletin. We are aware of some scoping submissions which, if they did develop into a full planning application, the Trust could well object to because of their location but scoping submissions are not open to objections.
What we are increasingly thinking about however is the approach we should take to applications to replace existing wind farms. Some of the early wind farms have already been replaced and several of the ones that we originally objected to, but were given permission to be constructed, will soon be coming to the end of their working life.
The policy of the Scottish Government with regard to what should happen is given in their "Onshore Wind Policy Statement" which they published in December 2017. They are very supportive in this statement of "repowering" existing sites using newer more efficient wind turbines. They also point out that the popular assumption that there is a 25 years lifetime limit requirement of the consent for wind applications is incorrect. They consider a wind farm site should be suitable for use in perpetuity. They do however acknowledge that repowering should be subject to planning approval and draw attention to the "particular interest of Scottish Natural Heritage (SNH) in repowering, given its responsibilities and wider role in considering and advising upon impacts of onshore wind development on the natural heritage".
The SNH has published several guidance documents on the areas of concern which should be addressed in the impact assessments that the developers of wind farm sites should produce and the methodology that should be used, the most recent one being the assessment of the impact on bats. In 2018 they consulted on a draft guidance document for repowering and in January of this year published the responses and a summary of the responses (these can be found at https://www.nature.scot/professional-advice/planning-and-development/renewable-energy-development).
The major issue that arose from the consultation was the base line that should be adopted against which the impact assessments for the repowered sites should be judged. The guidance recommended that the baseline should be the restored site following removal of the existing wind farm. Wind farm developers and consultancies associated with them felt that this was wrong and the base line should be the existing windfarm. All other respondents felt the SNH approach was the correct one. The final guidance has not yet been published so which point of view will prevail will be interesting to see (the Scottish Government is consulted on it).
The newer more efficient turbines are significantly bigger than the existing ones. Clearly the visual impact of these will be greater (some could be tall enough to require a permanent light on the top) but potentially there may be fewer of them on a site whilst being able to give a significantly greater electrical power output. Having been there for up to 25 years the existing turbines have probably conditioned most people to the acceptance of a landscape with them present. A restored site is not going to be as originally for many years, if ever. With one or two notable exceptions we all accept that global warming is a problem and wind farms have a major role in starting to deal with it as far as energy production is concerned. Objecting to and perhaps stopping the repowering of a site essentially means that another site will have to be developed which potentially may be, in our eyes and opinion, more of a problem.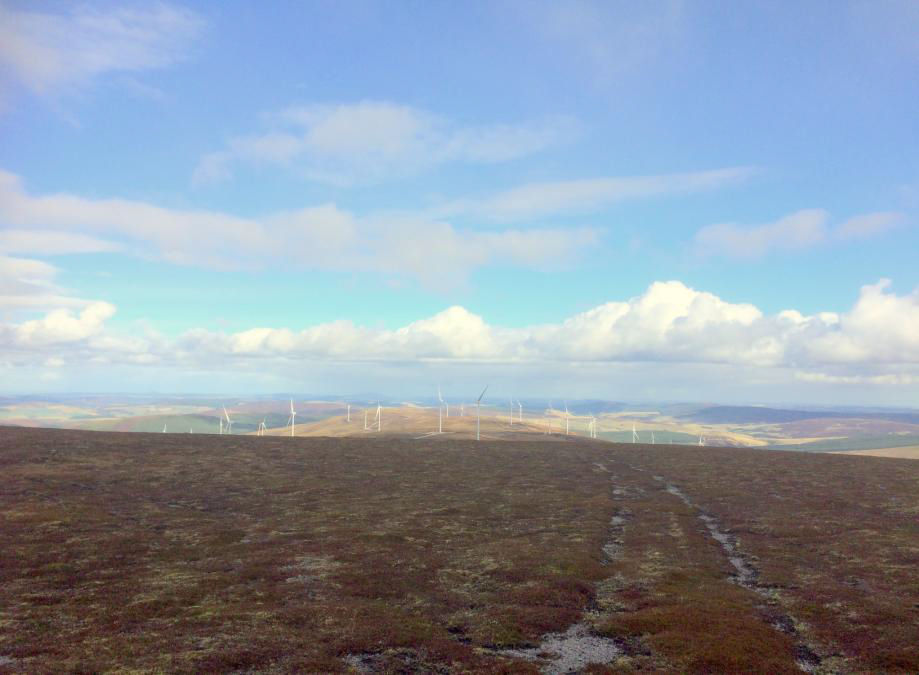 Partially completed Dorenell windfarm, from Cooks Cairn, masts 126m high ©C Lacy
The Trust would welcome comment from its members on how it should approach this issue. Clearly each site would have to be considered on a case by case basis taking the new proposals and guidance into account but it would be useful to have a consensus of opinion to support our approach. Please send any comments you would like to make on the issue to the Trust at nemt.info@gmail.com.
---
NEMT Front Page | Previous Page | Volume Index Page | Next Page | Journal Index Page
Please let the webmaster know if there are problems with viewing these pages or with the links they contain.