SEVEN DECADES OF NATIONAL RESERVES
Danny Carden, Ramblers Scotland
This year the Ramblers is celebrating the 70th anniversary of an important step forward for British landscape protection; the National Parks and Access to the Countryside Act 1949.
We're proud of the role that our organisation – led by tireless campaigning volunteers such as Tom Stephenson – played in helping deliver the Act. In England and Wales, it led to the creation of national parks, Areas of Outstanding National Beauty (AONB), national trails and the definitive map of paths.
Any legislative experts reading this may be under the impression that the 1949 Act has considerably less impact upon Scotland. They would be right! Sadly, it took more than half a century to get our own national parks legislation, with Loch Lomond & the Trossachs established in 2002 and the Cairngorms NP following in 2003 – the same year as access rights were secured through the Land Reform (Scotland) Act.
Big step forward
However, the 1949 Act did include one excellent and long-lasting improvement north of the border: National Nature Reserves (NNRs).
Britain's first NNR was established at Beinn Eighe in Torridon in 1951. In fact, one of its first wardens was Ramblers Scotland's former president, the late Dick Balharry. Since then NNRs have spread right across Scotland, with 43 of them now helping protect diverse habitats and species.
The uplands of north-east Scotland boast some fantastic NNRs: Glen Tanar, Muir of Dinnet, Corrie Fee, Mar Lodge Estate, Abernethy forest, Invereshie and Inshriach, Insh Marshes, Craigellachie and Glenmore. In north-east Scotland, you're also lucky to have Creag Meagaidh, St Cyrus beach and Forvie Sands NNRs on your doorstep.
NNRs have played a particularly valuable role in protecting landscapes and biodiversity within your region. They are nationally and internationally important areas, managed in a way that helps wildlife thrive – while also opening opportunities for people to enjoy them, often through visitor centres and trails. Ramblers Scotland will be highlighting the impact of our NNRs this autumn as part of a GB-wide social media celebration, so please do keep an eye on our feeds or our website and get involved.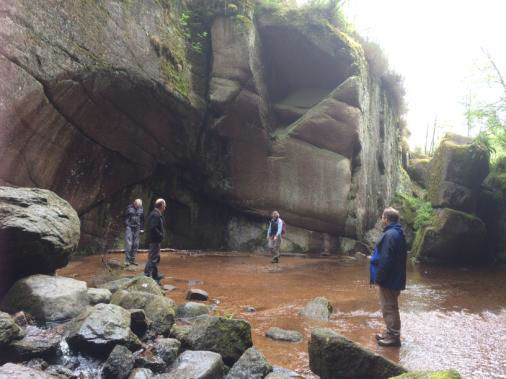 Burn Vat, Muir of Dinnet ©C Lacy
Seven decades on
The 1949 Act is a crucial part of Ramblers history across Britain - and is widely understood to be one our first key victories as a campaigning organisation . We're pleased to have played our role in securing world class access legislation and national parks in Scotland, but we're aware that there's still important work to do.
We're campaigning to support our upland landscapes against the threats of industrial development, unsustainable deer densities and the ongoing spread of hill tracks. Meanwhile, we face the prospect of Brexit. 80% of Scotland's environmental laws come from the EU, so we're working within Scottish Environment LINK in calling for a new Scottish Environment Act and independent watchdog to protect our special places.
The greatest threat to our landscapes is from climate change, so it is pleasing to see the landscape-scale ambition of the Cairngorms Connect woodland regeneration project, which aims to enhance 600 square kilometres of land in the national park. However, large swathes of the remaining area are less sustainably managed.
The future
We remain inspired by the ambitions of the 1949 Act and are grateful for the legacy it has granted us. But it's vital that we continue to build on what it achieved in a way which is relevant to the needs of walkers' today and tomorrow.
This year, we have been pleased to join forces with 60 other organisations to form Scotland's Landscape Alliance. Together, we'll raise the importance of managing change in our landscapes - and promote a positive vision for our landscapes that will work even better for people and nature 70 years from now.

We have five local Ramblers groups in the Grampian area - Aberdeen, Aberdeen Young Walkers, Inverurie, Moray and Stonehaven. As well as supporting campaigns, they hold hundreds of group walks each year. Please do consider getting involved. You can find out more at ramblers.org.uk/scotland.
You can also help us champion Scotland's landscapes by signing up for campaign news at ramblers.org.uk/1949Act. Everyone who registers will receive a free downloadable vintage poster.
---
NEMT Front Page | Previous Page | Volume Index Page | Next Page | Journal Index Page
Please let the webmaster know if there are problems with viewing these pages or with the links they contain.