LAND OWNERSHIP AND ENVIRONMENTALISM IN SCOTLAND: MAKE TINY CHANGES TO THE EARTH?
Rob Mackay
The Assynt Foundation hit the headlines recently when it was announced they had accepted a £100,000 loan from Wildlands, as it had experienced cash-flow problems with debts in current year of £32k. Its chairperson commented that:
"It's a constraint, the fact that we've got 44,000 acres of land and nobody is living in it".
Wildlands is owned by the Danish billionaire Anders Povlsen and his wife Anne and they are now Scotland's largest private landowner; they own 12 localities amounting to a total of 222,000 acres. Wildlands have insisted the loan is purely a business transaction and they are not seeking to influence how the Assynt Foundation seeks to spend that money.
Land and places have enduring significance for all people living on our planet; the United Nations recently released its report on Climate Change and Land. One conclusion stood out when the researchers stated that "the land is out of balance".
This report points out that land is both a sink and source of greenhouse gases. In Scotland we are engaged in an active process about land ownership, management and uses. The Scottish Land Commission (SLC) published an evidence based report in March 2019 "Investigation into the issues associated with Large Scale and Concentrated Land Ownership in Scotland".
The headline findings indicate the main positive of large scale and concentrated land ownerships is one of economies of scale, but also highlight a number of disadvantages such as the perception that landowners have the power to promote or hinder economic development. Some respondents to this SLC survey accuse some landowners of being anti-development and having conservation agendas (see quote on page 14 of SLC report). This illustrates the split that can occur between local communities and landowners which is sad; it seems to me that the value of "Community" & "Partnership" are essential and must underpin all activities. One of the recommendations of the SLC is that the local community be involved in land use change. They also recommend that there be a Public Interest test for a significant land transfer and landowners be required to publish a Business Plan.
The author's point out that now in Scotland landowners are no longer traditional lairds but include many public agencies and charitable organisations. For example, Forestry and Land Scotland manages over 1 million acres, the National Trust for Scotland owns 180,000 acres, the RSPB own 126,000 acres and now Community Ownership accounts for 562,230 acres.
Where does this leave those organisations with conservation and environmental purposes? How can they move forward in 2019 taking account of a number of social trends and pressures?
Some commonly stated organisational purposes include:
Protection of land from inappropriate development
Conservation and preservation of land
Restoration and repair of land
Engagement with people/education
A trend in recent times has been the use of "wild" and "rewilding" words in relation to Scotland's lands – do these words carry a depth of meaning in 2019?
Jim Hunter in a speech in 2017 pointed out that what is officially classified as wild land is "not so much wild as grazed out, barren and unproductive". He reminds us that Fraser Darling stated in his preface to his book 'West Highland Survey' (1954)
"And, finally, the bald unpalatable fact is emphasised that the Highlands and Islands are largely a devastated terrain, and that any policy which ignores this fact cannot hope to achieve rehabilitation."
The United Nations Climate Change report used the phrase "degradation of the land" and underlines how climate change can accelerate this degradation.
Possibly the significance of "re-wilding" is to be found in the recognition that such lands can recover and be restored. I recall visiting one area on the Isle of Lewis and being amazed and delighted by the profusion of wild flowers and plants- why was this? The area in question had been fenced off from the munching sheep and so these plants had an opportunity to flower and self-seed.
The use of the term "re-wilding" is contentious and for example Community Land Scotland does not believe this term is helpful in the context of community ownership. Ideas of renewal of a place and its people is seen as having a deeper meaning.
The relationship between local communities, the local area (environment) and those that have "a concentration of social, economic and decision-making powers" (SLC) is one that this article will now discuss through the use of case studies of two land-owning organisations that are connecting with their communities:
1. Abriachan Forest Trust - In 1998 the community purchased 540 hectares of forest and open hill ground from Forest Enterprise. Since then, as a social enterprise, the Abriachan Forest Trust has managed this land to create local employment, improve the environment and encourage it's enjoyment by the public through a network of spectacular paths, family suited mountain bike trails, innovative outdoor learning as well as health and well-being opportunities.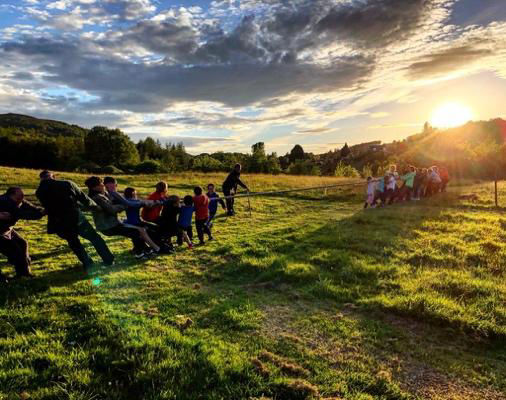 Thanks to the Abriachan Trust for permission to use this photo
My comment – I am impressed that this Trust as well as being active environmentally have embraced the 'forest schools' agenda and have also engaged with ideas that 'green health' is good for our mental health and wellbeing.
2.West Harris Trust (WHT) – this Trust was formed in 2010 to address local concerns about a falling population with limited employment and housing opportunities. Since then it has delivered a number of projects including Talla na Mara- a multi-functional community enterprise centre, renewable energy projects and six affordable homes in partnership with the Hebridean Housing Partnership. This has resulted in an increase in the local population including 22 children. They have formed a relationship with JMT volunteers (see photo) who come every year, live in the community and carry out work.
Comment: This is a Trust that is very much rooted in the community's needs whilst also appearing to realise that their existence depends on working within National Policies and related funding opportunities. It is interesting
Thanks to Toby Clark, JMT, for permission to use this photo.
that they position their care of the local environment through two renewable energy project and clearly do not see a contradiction.
What about large national Trusts, such as the John Muir Trust? This is entirely different both in scale and how they connect with people. They own and care for 8 places and their supporters come from largely outwith these places; support comes in many forms – individual membership, corporate membership, getting involved in fundraising projects, adopt an Acre etc. The 21st anniversary of the JMT was celebrated in 2018 and it was stated then that 300,000 people "have found something that is wild to them".
This initiative is highly praiseworthy and environmentally significant. And yet returning to the theme of environmental organisations being in an authentic relationship with local communities it is not clear to me whether the people that live on JMT estates influence the decisions taken at the higher echelons of JMT? Where does economic development fit in like we have seen with the West Harris Trust?
Conclusion
A number of conclusions come to mind:
You need people living close to the land, not necessarily living in it; West Harris Trust is doing well in attracting people back, whilst Assynt Foundation is struggling for the lack of people.
The building of a strong resilient local community is going to be essential to cope with the changes created by Climate Emergency, Post-Brexit impacts and Economic opportunities.
The participation by a local community is now recognised in Policy terms as a right and the work of the Scottish Land Commission is a powerful driver in this. For some communities this may not be the community ownership option but being provided with a safe platform through which to express views about land use choices. Another path a community group could pursue is by a making a Participation Request through the Community Empowerment Act 2015.
Measures to restore the land need to go hand-in-hand with climate change actions such as:

Ensuring the landscape is able to cope with adverse weather patterns
Reducing the number of deer and cows
Restoring Peat Bogs
Local Climate Change conversations (see Scottish Government guide)
Encouraging and supporting Volunteer action
Collaborating with a range of organisations
Restoring woodlands with native trees
A thought-provoking line from the late Scott Hutchison to finish with:
"and while I'm alive I will make tiny changes to Earth"
Let us all make "tiny changes"?

Sources:
Abriachan Forest Trust http://abriachan.org.uk
Am Bratach newspaper (April 2019)
James Hunter lecture (17 May 2017)
John Muir Trust https://johnmuirtrust.org
Scottish Land Commission https://landcommission.gov.scot
West Harris Trust https://www.westharristrust.org
Wildlands https://wildland.scot
---
NEMT Front Page | Previous Page | Volume Index Page | Next Page | Journal Index Page
Please let the webmaster know if there are problems with viewing these pages or with the links they contain.