IN THE BEGINNING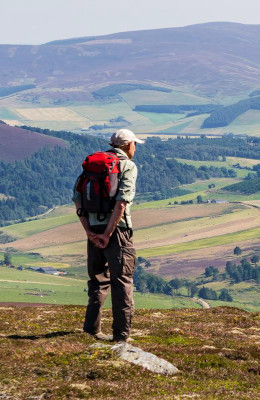 © Trevor Stuchbury
Drennan Watson, Chair 1980-1987
In 1977, a fully developed proposal for a coastal super-quarry exporting abroad had emerged at Longhaven, an important area for rock climbing, coastal walking and seabird nesting. This induced concern among rock climbers and others. Environmental concerns, as they affected climbers and hillwalkers had, till then, largely been handled by some members of the Etchachan Club like the late Norman Keir and Graham Boyd but the burden was becoming too much for one club. Some larger grouping was needed. A regional branch of the Mountaineering Council for Scotland (MCofS) was not possible under its constitution so a locally independent group was set up. On June 3rd 1980, seven clubs met and formed the North East Mountain Trust (NEMT) and this article looks at its activities up till 1987.
By the end of 1981, some familiar names already appeared on the committee, stalwarts such as Greg Strange (Coastal Issues), Ronnie Robb, Brian Robertson (enduring treasurer), Gordon Strachan and Trevor Stuchbury. I accepted the post of chair. By the end of 1982, there were nine member clubs and four more joined in later years.
Two background features of that time made NEMT's work increasingly relevant. One was increased government awareness and involvement in environmental issues from 1985 onwards. The other was increasing participation in outdoor recreation in hills and mountains. A survey by NEMT revealed that whereas there were 10 rambling, hillwalking, or climbing clubs in the northeast in 1970, by 1980 there were 30 with a joint membership of about 2000!
Those years up to 1987 saw NEMT dealing with over 30 issues including bulldozed tracks in the Cairngorms, mountain bothies, helicopters in the Cairngorms, downhill ski developments, coastal developments, World Conservation Strategy in the Grampian Region, depletion of birch woods around Braemar and Fountain Forestry's purchase of Creag Meaghaidh for planting and rights of way (NEMT had started a Rights of Way Working Party which did much work over years). In addition, it was responding to district and regional development plans in some detail.
It is worth noting NEMT's actions in some of these as it demonstrates its impact.
When the super-quarry issue arose, through NEMT, the climbing clubs then called an open meeting to which conservation and local residential groups sent representatives and the Longhaven Coastal Alliance was formed. The Alliance then published a report written by NEMT, "Coastal Development and Conservation Plan" proposing the area as a Heritage Coast and launched a petition in support. NEMT also helped to publicise the issue through the media. Thus, early in its existence, NEMT had learned the importance of working with others and of keeping a high public profile on the issue through press releases and appearances on radio and TV.
One significant effect arose from work on forestry issues. In 1984, a young forestry student was sent on site visits to comment on some of these applications. He was a certain Andy Wightman, at the university, acting as the Lairig Club representative. It was the start of another long story initiated by NEMT.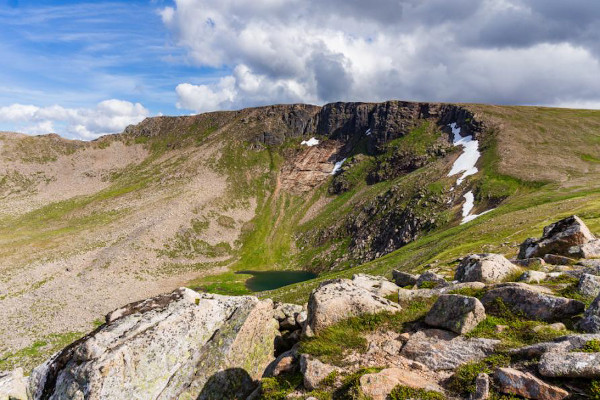 View from Lurchers © Trevor Stuchbury
But the major issue NEMT had been involved in was successfully opposing downhill ski developments in the Northern Corries and Lurchers Gully of the Cairngorms. In Dec 1982, the Secretary of State announced the refusal of planning permission. NEMT had played a major role in mustering opposition to this and forcing the issue to a Public Inquiry, such as by inducing the MC of S to object. NEMT then amassed an impressive array of witnesses of local, national and international standing and organised cooperation between objectors. The evidence of Adam Watson, as witness for the Nature Conservancy Council, played an important part, but, without the work of the NEMT, it is doubtful if this key battle could have been won.
This victory had several important results. Firstly, it awakened government in Scotland to the need to listen to the environmental lobby. Secondly, in the view of many participants outwith NEMT, it "revolutionised ideas of what was possible for the environmental sector" (R Aitken, chair of the Scottish Countryside Activities Council). Lastly, it convinced these bodies of the value of working together. In Dec 1982, as chair of NEMT, I wrote proposing that this cooperation be put on a more permanent basis. This led to the formation of Scottish Wildlife and Countryside Link (now Scottish Environment Link) in February 1987 with NEMT as a founder member.
Another notable action was NEMT involvement in the Third World Wilderness Congress at Findhorn in 1983 with other NGOs, getting them to pass a resolution urging the UK government to give priority to protection of the Cairngorm Area!
This involvement in such a wide range of issues became a constant feature of NEMT's work. Throughout, NEMT published carefully written documents to support its case such as "The Study of the Dispute over the Proposed Designation of the Northern Corries of the Cairngorms as a Site of Special Scientific Interest". It wrote and presented detailed evidence to two Parliamentary Select Committees (Tourism and the HIDB), published its Policy on Downhill Ski Development and A Survey of Rights of Way and Access to the Sea Cliffs. It commissioned the report, "Roads in Hills and Mountains" by an experienced road engineer demonstrating the faults in road construction on Cairn Gorm and lessons to apply more widely in Scotland.
In April of that year the Trust also published "The Future of the Cairngorms" by Adam Watson, Drennan Watson, and Kai Curry-Lindahl. Of these booklets, 128 were distributed to interested parties but 1800 sold. Extensive favourable accounts of it appeared in 12 national and regional papers and shorter ones in three others. The booklet urged readers to write to the Secretary of State asking for enhanced protection of the Cairngorms. Judging by the reaction of ministerial advisers ("The Secretary of State will NOT be dictated to") many did. Thus, overall, NEMT had an impact well beyond its regional base!
In 1987, I resigned as chairman becoming thereafter the founding chair of Scottish Wildlife and Countryside Link and the redoubtable late Bill Brooker took my place.
---
NEMT Front Page | Previous Page | Volume Index Page | Next Page | Journal Index Page
Please let the webmaster know if there are problems with viewing these pages or with the links they contain.