Roger Owen
Chair 1993 – 2001
I was asked to take on the role of Trust chair in 1993 and, although I was delighted to do so, it came with some trepidation as my predecessors had been Drennan Watson and then Bill Brooker, two very highly respected names in Scottish hillwalking and mountaineering. To put some context on the year of my election, 27 years ago: the internet had only just become available; the first web browser was invented in that year and Google didn't appear until 5 years later. Digital cameras had not become available to the general public and mobile phones were big and not at all smart.
The Trust's access to information was then very much through hard slogging through mountains of paper reports and attending a lot of meetings. Even so we had become a very effective and respected organisation for the staunch defence of our mountain and coastal environments, and our forthright views on upland land management. As chair I was helped immensely by a group of indefatigable and energetic council members such as: Jennifer Cook, Richard Hills, Denis Wilson, Will Campbell, Brian Robertson, Brian Findlay, Jim Conroy and Alistair Beeley. But even back then I had huge help from some people still working hard for the Trust right now including: Trevor and Maureen Stuchbury, Donald Thomas, Alison Mitchell and a certain Dave Windle. We were also helped a great deal by a number of acknowledged and respected climbing experts including Ronnie Robb, Greg Strange and Graham Boyd but especially by that giant of conservation and all-round uplands expertise, Adam Watson. Of course, Adam freely gave his invaluable expertise throughout the Trust's existence until his passing in 2019 and I was privileged to host the Adam Watson Memorial Lecture in November last year.
The big campaigns that founded the Trust and for which we gained a fighting reputation, the Longhaven Superquarry proposal and the Lurcher's Gully Inquiry, had passed by 1993 and we had helped to see off these awful development schemes. But now came a period of reflection by government (in those days the Scottish Executive) and conservation agencies on how to manage the uplands for competing interests. The Cairngorms became a particular focus for this and the pre-cursor to the National Park, the Cairngorms Partnership was formed in April 1995. To our surprise I was asked to join the Partnership Board at its formation. Was it a genuine attempt to forge solutions for all or a ploy to keep us onside as a "better the devil you know…"?
One really interesting early output of the CPB was the publication of a Management Strategy that had an overall vision for the central Montane Zone: "The Partnership's vision looks to seeing the hills returned to the best near-natural state as possible, while continuing to provide a high-quality educational, wildland and recreational experience, including downhill skiing facilities at Cairngorm, Glenshee and the Lecht.".
Some of the objectives the CPB had to reach that vision were really interesting:
Reducing the numbers and localised densities of red deer and sheep ….which allows sub-alpine scrub, tall herb vegetation and other montane vegetation to regenerate naturally.
Stopping the burning of sub-alpine moorland.
Minimising ground damage and soil erosion associated with hill vehicle tracks, footpaths and deer trails.
Removing superfluous hill vehicle tracks, reinstating the ground, and preventing the construction of new vehicle tracks
And here's a very interesting one that many of us would have some doubts about today:
Removing modern cairns, footbridges, boulder bivouacs, sign-posts, bothies and litter.
That was 24 years ago and how much of that vision has been achieved? There has been some good progress, for example at Mar Lodge and Glenfeshie Estates, both run with conservation as the primary objective but, dear me, there has been little progress by many other estates. When I asked if there was an overall vision for the current Park by the Cairngorms National Park Authority recently I was told there was not one overall vision but plenty of policies and objectives.
One of the old CPB's success criteria was designation of the Cairngorms as an IUCN World Heritage Site, recognising the incredible natural asset we have in this arctic plateau. It was even proposed in the Scottish Parliament in 2002, the International Year of Mountains. But it was effectively squashed by our old friend Fergus Ewing, fearing more bureaucracy and restrictions on development. Now the Cairngorms has been de-listed as a UK candidate – so no success story there then.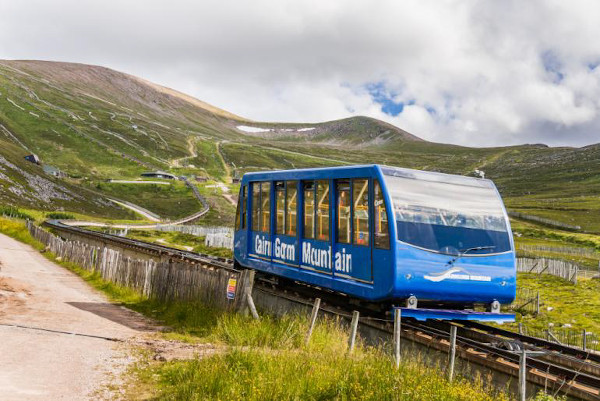 The funicular in happier days…. © Trevor Stuchbury
Perhaps the most fought over issue in my time as chair was the plan to construct the Funicular Railway at Cairngorm. From 1996 we objected strongly to the proposal and mounted a big campaign against it, its impact on the fragile high tops was potentially massive. Its economic cost was also considered to be unjustifiable by many campaigners and that the tax payer would have little value for money.
How right we were! There was even a letter objection from David Attenborough along with many illustrious co-signatories like David Bellamy, Chris Packham, Chris Bonington and Simon Pepper. The CPB had the power to call in the application and have it reviewed by Scottish Ministers, despite Highland Council having approved it, but wavered and procrastinated so as not to offend local community interests. In the end, at its meeting in March 1997, I forced a vote on calling it in and won it 10 votes to 8. This was to the fury of the Board's Chief Executive, Stewart Fulton, who warned me he would tip off the press that I was the instigator.
I didn't receive any death threats, but it caused an almighty row within the Board and the community. Not long after, I was called in to see the Chief Executive of SEPA, who was my employer. He had been got at by the CPB Chief Executive and I was asked to desist, as a public servant, from criticising the work of the CPB. I agreed with my boss that I would continue campaigning for the Trust but not appear as the author of any critical documents. I remember, as I left his office, that the SEPA Chairman at the time called me in and told me to carry on the good work and not to give in! Needless to say, when the Board had run its first term, I was not asked to stand again! Sadly, we lost the Funicular fight as Scottish Natural Heritage capitulated, and construction began soon after the decision to go ahead by the Scottish Minister. It opened in 2001 at a cost to the tax-payer of Ł26M and it's been a white elephant ever since.
Looking through the first Trust lecture programme of my chairmanship gives me a lot of pause for thought. The speakers included: Martin Moran, Andy Wightman, Rennie McOwan, Andy Nesbitt and John Grant. A stellar set of people passionate, in different ways, about hills and mountains. Three of these wonderful characters passed away in the last couple of years, along with Adam Watson, but what a legacy they have left us! Of course, Andy Wightman still carries the torch brilliantly. I feel privileged to have known all of these people, and many others, through my work with the Trust.
The last big task I took on for the Trust was the organisation of the Ballater Conference as our contribution to the International Year of Mountains in 2002. It was huge fun and a roaring success. We started with a Ronnie Robb slideshow and then a conference with great speakers talking about the future for the Cairngorms. The evening ceilidh went really well and a number of led walks followed the following day. It brought together in that Deeside town a big gathering of people passionate about their hill and mountain environment. I enjoyed it immensely. But by then I was becoming heavily involved in shaping the new EU Water Framework Directive and taking a lead role in representing Scotland and the UK which meant a lot of travel. So reluctantly, I decided in 2001 to step down and handover to the charismatic Jennifer Cook, but I've stayed on the Council and in my recent retirement taken up some of the cudgels again!
---
NEMT Front Page | Previous Page | Volume Index Page | Next Page | Journal Index Page
Please let the webmaster know if there are problems with viewing these pages or with the links they contain.