NEWS SNIPPETS
Rob Mackay
New Fungi Species
New Fungi species has been discovered in The Cairngorms. The BBC reported that Conservation charity Plantlife and Aberdeen-based research organisation the James Hutton Institute led the project.
The new discoveries were made possible after 73 volunteers helped to gather more than 200 soil samples last summer. Hillwalkers collected samples of soil at different altitudes from 55 Munros - mountains more than 914.4m (3,000ft) high - in the Cairngorms National Park.
DNA was extracted from the soil and sequenced by scientists at the James Hutton Institute. This resulted in more than 17,000 records of 2,748 fungal species; of those, two were new discoveries: Amanita groenlandica is an Arctic species, while Acrodontium Antarcticum was first recorded on the opposite side of the world in Antarctica.

Glenripesdale Nature Reserve
The Glenripesdale nature reserve has been handed over to the RSPB. It contains ancient woodlands that are described as Scotland's rainforests. This stunning ecosystem is located on the tip of the Morvern Peninsula on the south shore of Loch Sunart. These rainforests can contain as many as 200 species of lichen, mosses and liverworts in just one hectare. RSPB stated that the nature reserve is "a significant piece of the fragmented jigsaw of ancient woodlands" and is looking forward to working with local communities as it addresses the challenges facing the woodland.

Deeside Action for Capercaillie
Dave Windle and Roger Owen attended a workshop in Ballater on 31st May to discuss the start-up of the Deeside Action for Capercaillie project. It aims to take the experience from Speyside, where a project to conserve capercaillie has been running for a number of years and bring them over to Deeside where the population is smaller, more fragmented and much more vulnerable.
The project will focus on the following themes.
Habitat management

Create new and improved native woodland expanding and linking suitable habitat
Fence marking of high-risk fences

Recreation management

Promote responsible access and dog walking
Reduce disturbance through path management

Awareness, understanding and community engagement

Highlight importance of the area for capercaillie economically, ecologically, culturally and socially – take pride in the species
Work with communities to conserve capercaillie

Development management

Develop mitigation around new developments to prevent disturbance and impacts on habitat
Coordinate mitigation at landscape scale

Why People Enjoy Walking
Paths for All asked people across Scotland what do they love about walking? This was at the conclusion of National Walking Month and here are the main thoughts of people who took part in this project:
Staying Fit & Healthy
Promotes Mental Wellbeing
Connectedness to Nature
Spending time with others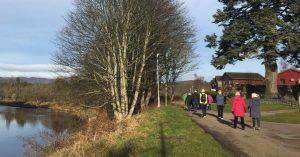 Health walks © Positive Steps
One participant commented: "I have met so many wonderful people whilst walking in groups and with my dogs."
Check the link out:
https://www.pathsforall.org.uk/news/news-post/national-walking-month-the-top-reasons-why-people-love-walking
Just Transition and Wild Places
The John Muir Trust have produced a booklet – Just Transition and Wild Places – that they hope can contribute to the dialogue about the management of the land for the climate and biodiversity.
The booklet has six interlinked chapters dealing with carbon; biodiversity; communities and land reform; the rural economy; renewables; and recreation.

Habitat Map of Scotland
NatureScot with help from its partners is co-ordinating the development of a Habitat Map of Scotland. To check out your local area, it can be viewed here.
The Scottish Biodiversity Strategy made a commitment to produce a 'comprehensive map of Scotland's main habitats'. The Habitat Map of Scotland (HabMoS) will publish all available habitat data and manage a programme to survey those areas for which new information is required. This map uses information from national surveys and classifies them in a single website. It covers a range of habitats such as forests, the machair, coastal areas, saltmarshes, sand dunes etc. It will allow NatureScot to map habitats and monitor land use.
The environs of Peterculter
---
NEMT Front Page | Previous Page | Volume Index Page | Next Page | Journal Index Page
Please let the webmaster know if there are problems with viewing these pages or with the links they contain.